Ameren Corporation Earnings: Decrease in Revenue Snaps a Streak
S&P 500 (NYSE:SPY) component Ameren Corporation (NYSE:AEE) reported its results for the first quarter. Through its subsidiaries, Ameren Corporation operates rate-regulated electric generation, transmission and distribution businesses, rate-regulated natural gas transmission and distribution businesses and non-rate-regulated electric generation businesses.
Don't Miss: Wall St. Cheat Sheet's newest Feature Trades of the Month!
Ameren Earnings Cheat Sheet for the First Quarter
Results: Net income for the diversified utilities company fell to $71 million (28 cents/share) vs. $102 million (43 cents/share) a year earlier. A decline of 30.4% from the year earlier quarter.
Revenue: Fell 0.6% to $1.9 billion YoY.
Actual vs. Wall St. Expectations: AEE fell short of the mean analyst estimate of 37 cents/share. Estimates ranged from 30 cents per share to 45 cents per share.
Quoting Management: "Our first quarter 2011 core earnings results were on track with our expectations despite being lower than those of last year's first quarter," said Thomas R. Voss, chairman, president and chief executive officer of Ameren Corporation. "As a result, today, we are reaffirming our GAAP and core earnings guidance of $2.20 to $2.60 per share for this year. In addition, we continue to expect free cash flow to be positive in 2011."
Key Stats:
A year-over-year revenue decrease last quarter snaps a streak of three consecutive quarters of revenue increases. Revenue rose 5.3% in the fourth quarter of the last fiscal year, 24.2%in the third quarter of the last fiscal year and 1.2% in the second quarter of the last fiscal year.
Competitors to Watch: CenterPoint Energy, Inc. (NYSE:CNP), Integrys Energy Group, Inc. (NYSE:TEG), The Empire District Electric Co. (NYSE:EDE), NorthWestern Corporation (NYSE:NWE), CMS Energy Corporation (NYSE:CMS), NiSource Inc. (NYSE:NI), CH Energy Group, Inc. (NYSE:CHG), Dominion Resources, Inc. (NYSE:D), Wisconsin Energy Corp. (NYSE:WEC), and DTE Energy Company (NYSE:DTE)
Stock Performance: Shares of AEE are trading down 0.86% from the previous close.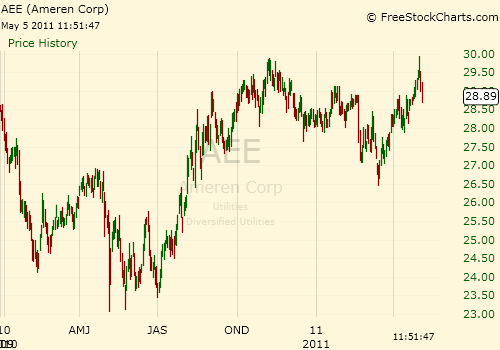 Don't Miss Wall St. Cheat Sheet's newest Feature Trades of the Month!