America to Congress: It's Time to Look for Another Job
Eleven days into a partial government shutdown, six days away from exceeding our borrowing limit, and Americans want Congress to go. A new NBC News/Wall Street Journal poll shows that given the opportunity, 60 percent of Americans would vote every single member of Congress out of office, including their own representatives.
This is the highest share of Americans who would like to hit the 'reset' button in Washington since the poll began asking the question. In October of 2010, as headline unemployment hit a post-crisis high of 10 percent, only a slim majority of Americans — 50 percent to 47 percent — wanted to fire Congress, and the share increased to 54 percent in August 2011 in the wake of the last round of debt ceiling brinksmanship.
"We continue to use this number as a way to sort of understand how much revulsion there is," said Peter Hart, a Democrat who co-conducted the poll with Republican Bill McInturff, according to NBC News. "We now have a new high-water mark."
As far as the parties are concerned, negative sentiment towards both is high. For the October 7-9 reading, 29 percent of respondents had a "very negative" view of the Republican party while 20 percent had a very negative view of the Democratic party.
Turning the spotlight on to the president, 47 percent of survey respondents in the NBC News/Wall Street Journal poll approve of the job that President Barack Obama is doing, while 48 percent disagree. This approval rating is actually  above where it was in the previous three months, but is well below highs of about 60 percent from 2009. Thirty four percent of poll respondents had a very negative view of the Tea Party.
This data is consistent with the president's approval rating as measured by Gallup. Gallup's survey showed that President Obama's approval rating fell from 49.7 to 47.9 between the last two quarters of his presidency.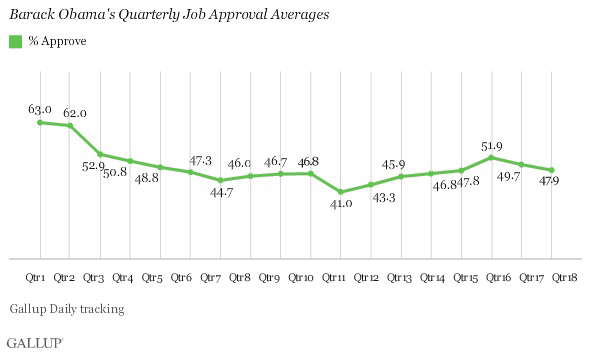 Gallup data also confirm that a majority of Americans disapprove of the job that Congress is doing. According to a survey conducted at the beginning of October, Congress' job approval rate among Americans is just 11 percent. Even the approval rating of their own representative has declined dramatically, to just 44 percent.
It's interesting to note that Democratic approval of Congress declined most dramatically between September and October, falling from 20 percent to just 5 percent. Republican approval fell from 18 to 15 percent, while Independent approval fell from 19 to 13 percent.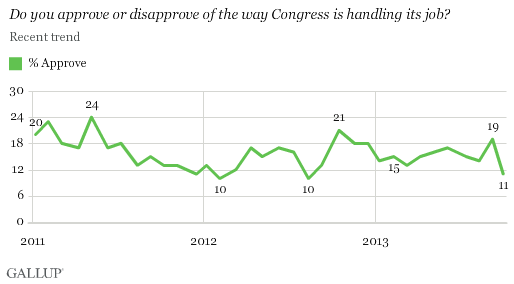 If you're one of the millions of Americans that wants to tell Congress how you really feel, there's a service that can help:
Don't Miss: G20 Officials Meet in Washington With an Eye on the Debt Ceiling.