American Express Gives New CFO Millions In Bonuses and 2 Other Dow Movers to Watch
American Express Company (NYSE:AXP): Current price $72.19
The gigantic credit-card issuer announced Sunday that it has recruited Jeffrey C. Campbell from McKesson Corp. to be its next chief financial officer, and that he will receive $16 million in his first month at AmEx. Along with that sum, which is comprised of bonuses will either vest or pay out later than this year, Campbell, will also receive a $1 million annual salary, according to the firm on Monday in a filing. Campbell is currently CFO of McKesson, which is the number-one health-care services company in the United States, and he is replacing Dan Henry, who announced in May that he was retiring.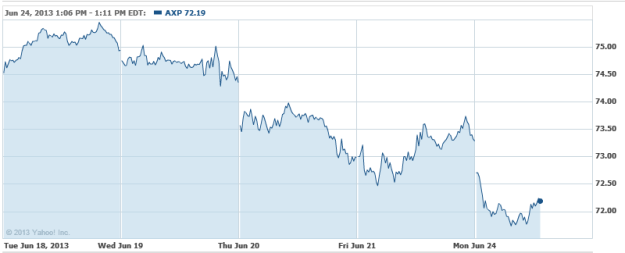 General Electric Company (NYSE:GE): Current price $22.87
GE's healthcare operating division GE Healthcare, will acquire a portion of the mammography assets of Rayence Co. for an unreported amount. After the transaction closes, the purchased assets will form an integral part of the Detection & Guidance Solutions business unit of GE Healthcare. Rayence is headquartered in South Korea, and makes and supplies flat panel detectors for digital X-Ray imaging system worldwide. The company is a subsidiary of Vatech Co, which is a Korean X-Ray manufacturer.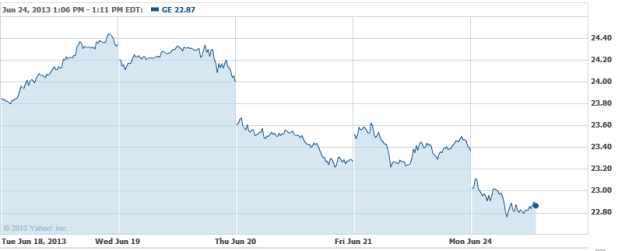 AT&T (NYSE:T): Current price $34.44
A number of U.S. states and K-12 school districts are adopting AT&T's networking services such as Ethernet through which to boost bandwidth speed, as they get ready for statewide online assessments linked with the Common Core State Standards, a move to standardize math and English curricula by the 2014-2015 school year. With the use of tech growing dramatically in classrooms resulting from mobile learning programs, 80 percent of school districts say that their broadband connections fail to fully satisfy their current needs, said an FCC report, Measuring Broadband America.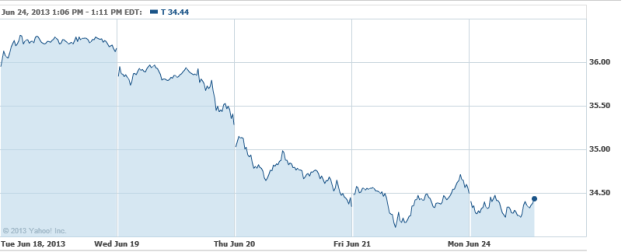 Don't Miss: American Express Wins This Big Ruling for Corporate America.