American Express Partners with National Trust for Historic Preservation and 2 Other Dow Movers to Watch
American Express Co. (NYSE:AXP): Current price $73.53
On Thursday, American Express and the National Trust for Historic Preservation announced that they will work jointly to help advance and enable the preservation of endangered cultural and historic places spanning the United States. As the presenting partner of National Treasures, American Express will supply the National Trust with a $2 million grant to help to guard the country's architectural, cultural and natural heritage sites at risk of destruction or irreparable damage, and ensure that these icons of the past remain safe.

Walt Disney Co. (NYSE:DIS): Current price $63.96
Disney Consumer Products has introduced a broad line of new products celebrating Disney Princess Ariel, available currently at national retailers coinciding with The Little Mermaid Diamond Edition Blu-ray release. The new collection is based upon Ariel's personality and signature red hair and features items for collectors, little princesses and adults, from dolls and role play to beauty and fashion. Executive Vice President of Global Licensing and Disney Consumer Products Josh Silverman commented that "Ariel has consistently been one of the most popular Disney Princess characters in part because of her spirited, adventurous and determined personality — all qualities that girls today can relate to."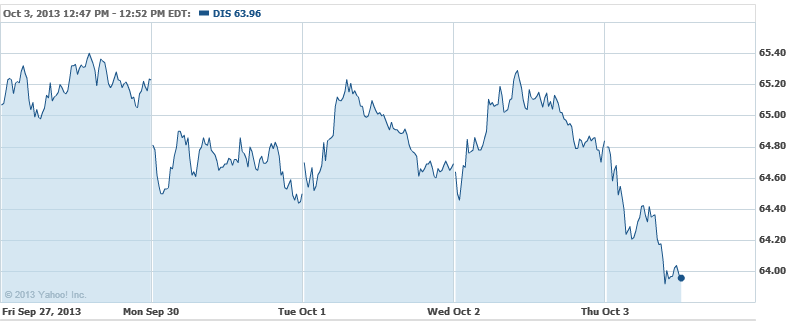 E.I. DuPont de Nemours & Co. (NYSE:DD): Current price $57.92
On Thursday, DuPont announced the introduction of DuPont Nomex XF, a unique solution for flame barrier applications in the aerospace industry, as part of a concentration on protecting people. Nomex XF is a novel material that helps protect aluminum fuselage aircraft by supplying a robust, durable and lightweight flame barrier that can help prevent outside fire from penetrating an aircraft cabin, allowing passengers more time to escape the hazard. Besides that, it can help prevent flame propagation so that aircraft insulation will not spread fire.

Don't Miss: Report: Sequestration and Obamacare Pushing Up Layoffs.