American Express Sells Publishing Corp. to Time Inc. and 2 Other Dow Movers to Watch
American Express Co. (NYSE:AXP): Current price $74.13
On Tuesday, American Express announced that Time Inc. will acquire its American Express Publishing Corporation. The latter, with brands that include Travel + Leisure and Food & Wine, will become a wholly-owned subsidiary of the buyer. The purchase follows a 20-year relationship between Time Inc. and American Express Publishing during which the former has provided management services support to the firm.
It was also announced that eligible American Express Card Members will continue to receive Departures, Black Ink, and Executive Travel. The transaction should be completed in the fourth quarter, subject to satisfaction of the usual closing conditions.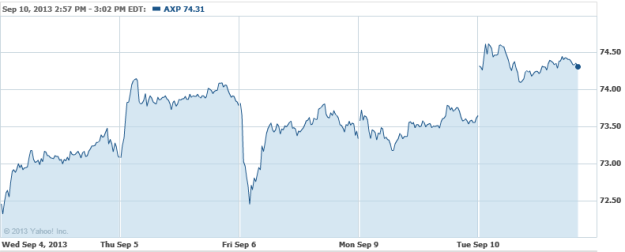 The Boeing Co. (NYSE:BA): Current price $108.04
For 2013, Boeing will increase plane deliveries to customers in China by 50 percent to address burgeoning demand for air travel. The plane manufacturer will ship over 120 aircraft to carriers in that country, which will be up from 80 in 2012, Vice President, Marketing, Randy Tinseth said on Tuesday in an interview with Susan Li on Bloomberg Television. Tinseth observed that, "We've seen strong domestic demand in China. The fundamentals are strong." Last week, Boeing elevated its 20-year demand forecast for China's aircraft market, marking the fourth consecutive year in which it has boosted its estimate for the country.

United Technologies Corp. (NYSE:UTX): Current price $106.10
United technologies has signed a service contract with the French military helicopter training firm HeliDax SAS for an undisclosed figure. The contract requires UTC Aerospace Systems, which is an operating division of United Technologies, to supply aftermarket services for HeliDax' helicopters that sports the biggest single-engine EC120 worldwide fleet currently in operation. Through the terms of the contract, HeliDax' training schedule includes a maximum of 22,000 flying hours per year on its fleet of 36 EC120 helicopters that was renamed 'Calliope'.

Don't Miss: Employers Hoarding Labor: Here's Why That's Bad News.