American Express Wins SCOTUS Arbitration Ruling and 2 Other Dow Movers to Watch
American Express Company (NYSE:AXP): Current price $73.74
On Thursday, the United States Supreme Court agreed with the power of businesses to place legal disputes into arbitration, as it sided with American Express in an antitrust dispute with retailers in regards to credit cards they must accept. The 5-3 ruling holds merchants to agreements they sign, pledging to pursue any disputes individually before an arbitrator. Prior to the new decision, a federal appeals court had refused to enforce the arbitration accord, saying that its bar on class actions would render it unfeasible for merchants to press their claims. Writing for the majority, Justice Antonin Scalia turned aside that reasoning, commenting that courts can not invalidate a class-action waiver on the grounds that individual arbitration would be too expensive to pursue.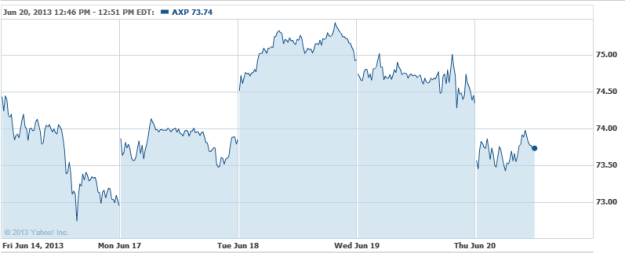 Caterpillar (NYSE:CAT): Current price $83.25
In a Thursday filing, the construction and mining equipment manufacturer said that worldwide retail sales fell at a slower pace in the three months through May, while at the same time Latin America improved. Total machine retail sales dropped by 7 percent year-over-year from 2012, which was smaller than the 9-percent slide in the three months through April. The filing also indicated that retail machine sales declined in all regions but Latin America, in which they rose by 22 percent. Regionally, sales fell by 16 percent in North America; 14 percent in Asia-Pacific; 2 percent in Europe, Africa and the Middle East; and 2 percent in the rest of the world.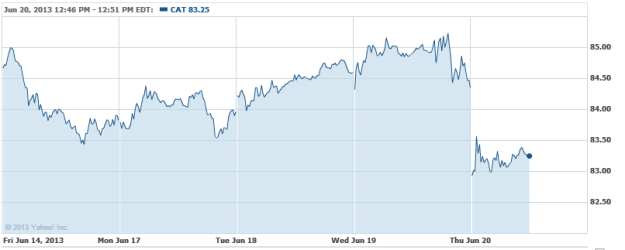 Wal-Mart Stores (NYSE:WMT) Current price $73.58
The Walmart Foundation on Thursday announced $14 million in grants through which to provide over 1.7 million children and families with free meals and nutrition education programs. These grants will broaden access to meals for children outside of school this summer and throughout 2013, while also helping families to learn how to develop healthy, low-cost eating habits. Six nonprofit organizations, including Education and Families, Alliance for a Healthier Generation, Food Research and Action Center, National League of Cities Institute for Youth, Texas Hunger Initiative, and YMCA of the USA, will utilize the grants to fund programs that serve families in over 450 communities throughout the United States.

Don't Miss: Gone Gluten-Free? Go to Dunkin Donuts.