Americans Are Surprisingly Less Worried About Their Finances
The U.S. economy is still fragile and well below its glory days, but Americans are beginning to worry less about their personal finances.
Financial worry across the country declined to its lowest level since before the Great Recession last month, according to Gallup's annual Economy and Personal Finance survey. Fifty-three percent of those polled were classified as highly or moderately worried about their finances, down from a peak of 61 percent last year. It was also the best reading since 45 percent in 2007.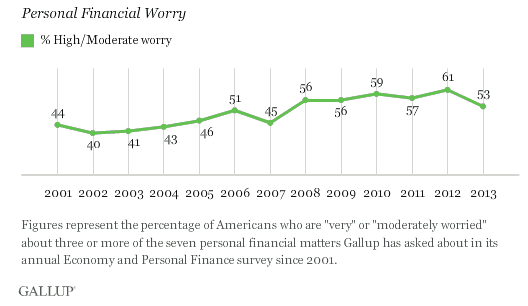 Even with the improvement, Americans were generally less worried about financial matters before the 2008-2009 recession. The highest pre-crisis peak reached 51 percent, but the index has fluctuated between 53 percent and 61 percent since 2008.
Gallup creates the Financial Worry Index from asking Americans how much they worry about several common financial areas, including: having enough for retirement, medical expenses, maintaining current standard of living, paying regular monthly bills, and making minimum payments on credit cards.
In 2013, a quarter of Americans are worried about six or seven of the financial areas, which places them in the "highly worried" category. Another 28 percent find themselves in the "moderately worried" category by worrying about three to five items. The remaining 47 percent have few financial worries, including 23 percent who are worried about none of the financial items.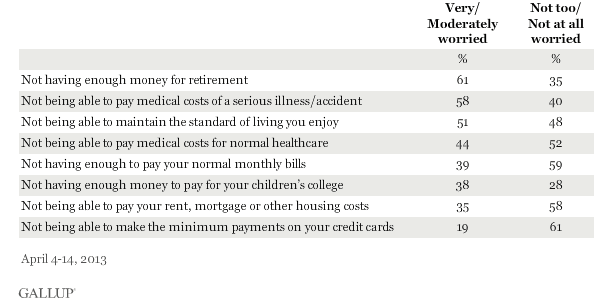 Concerns about retirement and medical bills topped the list of worries. Sixty-one percent are very or moderately worried about not having enough money for retirement, while 58 percent fear not having the funds to pay for a serious medical issue. In fact, retirement concerns have been the top worry for 13 consecutive surveys. Medical costs ranked second each time.
Don't Miss: Time for Americans to Rethink Retirement?
You can follow Eric on Twitter (@Mr_Eric_WSCS) for the latest industry news.