Americans' Confidence in Congress Hits All-Time Low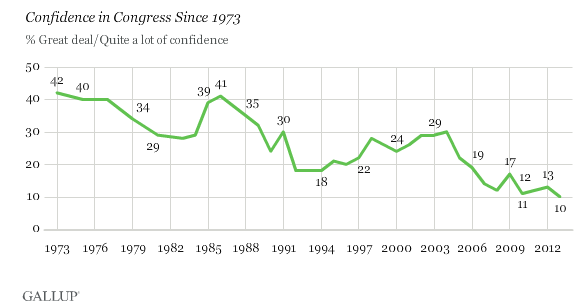 Just when you think the nation's leaders can't possibly sink any lower, a new poll is released that shows Americans are more disappointed than ever.
According to Gallup, Americans' confidence in the U.S. Congress as an institution dropped 3 percent points to an all-time low of 10 percent this year, compared to 13 percent in 2012. The confidence level was 42 percent in 1973 — the first year for the survey — but has been trending lower for several years. In fact, Congress ranked last in a list of 16 societal institutions for the fourth consecutive year, and posted the lowest confidence reading for any institution in the history of Gallup.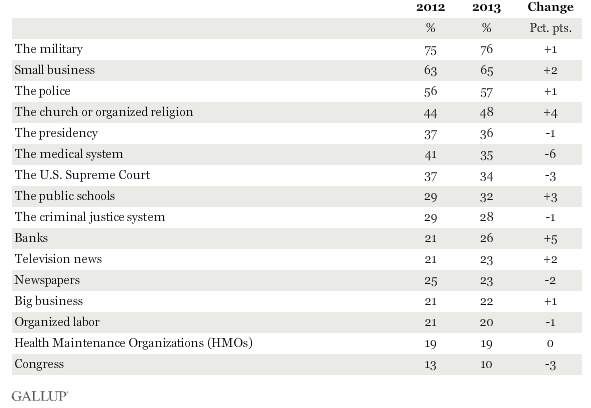 Among the institutions, Congress fared worse than big business, television news, banks, and public schools. Americans said they had the most confidence in the military, small business, and the police.
While many political pundits attempt to split America by making issues about the left versus right, nearly all Americans lack confidence in Congress equally. Between 2009 and 2012, partisan differences slowly diminished. Gallup notes that Democrats are only a "mere two percentage points more likely than Republicans to report having a great deal or quite a lot of confidence in Congress." As the chart below shows, Independents are also lacking a great deal of confidence.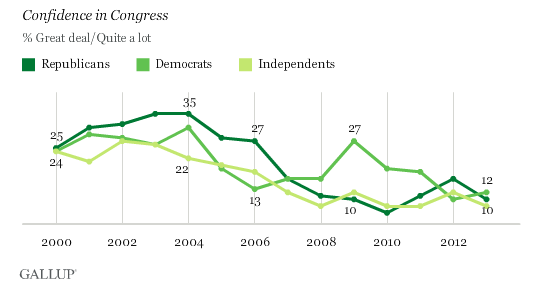 The results echo a poll released earlier in the week by Gallup that finds nearly four in five Americans (78 percent) disapprove of the job that Congress is doing. That marks the 45th consecutive month that more than two-thirds of Americans have disapproved of the job that Congress is doing, and paints a pretty depressing picture of the political situation in the United States.
Don't Miss: Do Top U.S. Executives Believe A 'Recovery' is Taking Place?
Follow Eric on Twitter (@Mr_Eric_WSCS)