Americans Have Never Loved the Economy More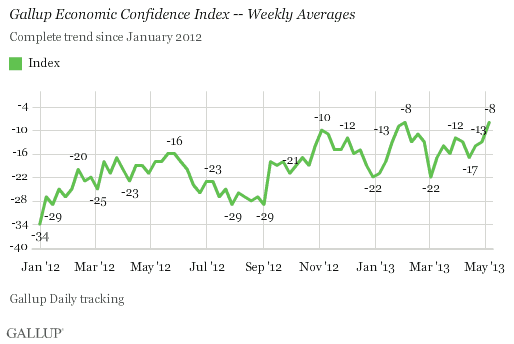 Gallup's U.S. Economic Confidence Index climbed to -8 for the week ended May 4, matching the five-year weekly high set in February. The index in April also tied the five-year monthly best, with confidence among upper-income Americans breaking out of negative territory for the first time in five years.
Broadly speaking, this change in perception can be the result of two things in varying proportions. In absolute terms, economic indicators released over the past few months paint a picture of a U.S. economy that is slowly recovering. This idea is supported by consistently positive housing-market data and is highlighted by the most-recent jobs report. Other positive catalysts include business investment, low inflationary pressures, and short-term increases in consumer spending.
On the other hand, expectations about what constitutes a 'good' economy could be acclimating to post-crisis conditions. As Richmond Federal Reserve President Jeffery Lacker pointed out in his May 2013 Economic Outlook, long-term labor market trends suggest that the United States should not expected to return to the 3.5 percent GDP growth rate attained between 1950 and 2000 in the near term. Instead, an average GDP growth rate around 2.0 percent may not only be acceptable, but good.
One of the issues that may be biasing the perception of the U.S. economic recovery is an unfavorable comparison to past growth. As Lacker points out, GDP grew at an annual rate of about 3.5 percent between 1950 and 2000. This was a function of strong growth in both employment and labor productivity.
Employment grew at a 1.7 percent annual rate between 1950 and 2000, according to Lacker. Since the end of 2009, this growth has slowed down to an annual rate of 1.1 percent. Meanwhile, labor productivity, which increased at an average annual rate of 1.8 percent from 1950 to 2000, has increased at only about 1 percent since 2009.
Taken together, the relatively slow growth in employment and labor productivity has put a speed limit on overall economic growth. So, while conditions do seem to be improving, the 'new normal' looks like it will compare unfavorably to the rate established between 1950 and 2000. This premise is supported by what Lacker calls the "unusual feature of this expansion."
"The unusual feature of this expansion, relative to our 20th century experience, is the evolution of the size of the labor force," said Lacker. "The fraction of the working age population that is either working or actively looking for work — economists call this the labor force participation rate — rose steadily from 1950 to 2000, as women entered the work force in ever larger numbers, and improving health allowed people to work later in life. Since 2000, labor force participation has fallen significantly, from a peak of over 67 percent to a rate of 63.3 percent as of March. Much of that decline has occurred since the Great Recession."
Lacker goes on to point out that one of the obvious explanations for the decline in the labor force participation rate is that workers have become discouraged by adverse labor market conditions. While this is certainly true — as indicated by a 13.9 percent U-6 unemployment rate — Lacker suggests that long-term demographic shifts and structural changes have played a significant role, as well.
You can follow Dan on Twitter (@WscsDan) for the latest industry news.
Don't Miss: Warren Buffett's Secret Successor.