Americans: Legalize Marijuana and Ring the Cash Register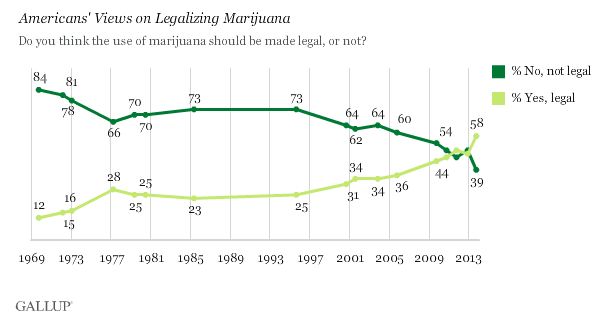 There's no denying the buzz that's surrounding the marijuana industry. Earlier this year, the Colorado legislature made history by becoming the first in the nation to approve laws taxing and regulating recreational marijuana. Most other states have been reluctant to follow, but support for Mary Jane is at an all time high.
For the first time ever, the majority of Americans say marijuana should be legalized. According to a recent poll from Gallup, 58 percent say they favor legalization, compared to 50 percent in 2011, and only 12 percent when Gallup first asked the question in 1969. Public support for legalization more than doubled during the 1970s, but weakened in the 1980s and 1990s.
"Success at the ballot box in the past year in Colorado and Washington may have increased Americans' tolerance for marijuana legalization," explained Gallup. "Support for legalization has jumped 10 percentage points since last November and the legal momentum shows no sign of abating. California's second highest elected official, Lt. Gov. Gavin Newsom, said that pot should be legal in the Golden State, and advocates of legalization are poised to introduce a statewide referendum in 2014 to legalize the drug."
While marijuana is still illegal under federal law, Deputy Attorney General James Cole recently said that the Justice Department would not challenge the legality of Colorado's referendum as long as there is licensing and regulation on the industry. Next month, Colorado will ask voters to approve a 15 percent excise tax and a separate 10 percent special sales tax. In addition, cannabis will be subject to a 2.9 percent general sales tax and any local taxes.
The Colorado Futures Center, a nonpartisan research organization at Colorado State University, issued a report on the fiscal impact of legalizing marijuana earlier this year. It estimates that with marijuana being legal for people 21 and older, 642,772 Coloradans will use marijuana in 2014.
The organization calculates this number by using the latest marijuana usage rates from the National Survey on Drug Use and Health (2010-2011). The usage rate in Colorado is 41.3 percent for ages 18 to 25, and 11.5 percent for those 26 and older. The Colorado Futures Center then added another 20 percent to the total number due to the social stigma surrounding marijuana at the time of the drug survey.
The organization excluded non-Coloradans using marijuana in the state, so the estimate of 642,772 is likely to be conservative. In comparison, 108,951 Coloradans held medical marijuana cards as of February 2013.
Using historical data, the Colorado Futures Center estimates a per person per year usage rate of 3.53 ounces. This translates to an annual demand of 2,268,985 ounces. After applying taxes and various average costs, the organization believes Colorado will bring in an additional $130.1 million in state tax revenue in fiscal year 2014-15, with public school construction receiving the first $40 million of any annual tax revenue collected. Colorado's General Assembly estimates the state to receive an additional $67 million in state tax revenue, a lower figure but still a significant amount.
Don't Miss: Will the Middle Class Ever Get to Retire?
Follow Eric on Twitter @Mr_Eric_WSCS