Consumer Sentiment Hits Nine-Month Low
Despite the recent rally in stock prices, consumers are still feeling down about the economy as Main Street struggles to recover from the worst financial crisis since the Great Depression.
The index of consumer sentiment compiled by Thomson Reuters and the University of Michigan plunged to 72.3 in April, compared to 78.6 in March. It is a preliminary reading, but it is the lowest level of sentiment since July 2012 and the biggest miss of expectations on record. The reading was lower than all 69 estimates in a Bloomberg survey. On average, economists projected the index to come in unchanged at 78.6.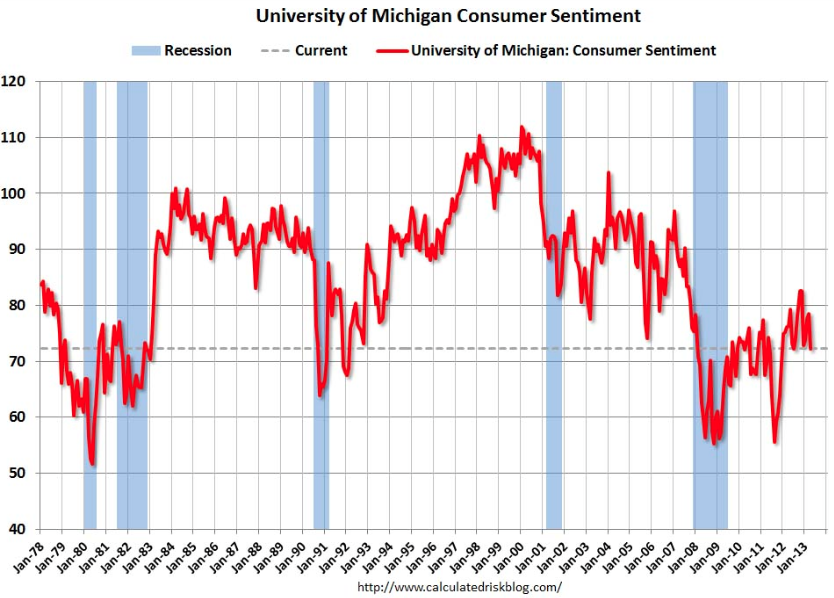 During the last recession, the index averaged slightly above 64. In the five years before the financial crisis, it averaged almost 90. Consumer sentiment is one of the most popular measures of how Americans rate financial conditions and attitudes about the economy. The University of Michigan's Consumer Survey Center questions 500 households each month for the index.
Consumer expectations also take a hit…
The reading on current economic conditions, which measures whether Americans think it is a good time to make large investments, fell from 90.7 to 84.8, its lowest level in nine months. Meanwhile, while consumer expectations declined from 70.8 to 64.2.
Consumers have been facing higher living expenses, stagnant wages, and political bickering more than ever. In a separate report from the Commerce Department, retail sales dropped 0.4 percent in March, the biggest decline in nine months.
"It is perhaps telling that a lot of the weakness in March was in sales of discretionary items," said Paul Dales, senior U.S. economist with Capital Economics, according to the WSJ. "This suggests that the payroll tax hike and previous leap in gasoline prices is forcing households to pull back."
Don't Miss: Bank of America Dodges "Worst Company in America" Title