America's Favorite Anchorman Is Promoting the 2014 Dodge Durango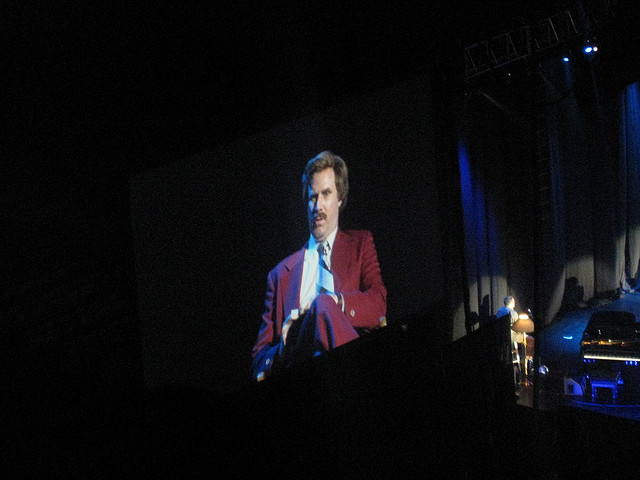 Chrysler Group's (FIATY.PK) Dodge brand is taking advantage of the anticipation for the upcoming Anchorman sequel by striking a deal with Paramount Studios (NASDAQ:VIA), owned by Viacom Inc., in order to secure advertising by the film's lead character, Ron Burgundy, played by Will Ferrell. Consumers can now watch the popular character promote the 2014 Durango, and Dodge — not to mention Chrysler — hopes the entertaining commercials will give buyers reason enough to drive what Burgundy agrees is a powerful car.
According to The Hollywood Reporter, the new partnership reflects the first time a movie studio like the Viacom-backed Paramount has agreed to use starring talent for a brand tie-in. The current ubiquity of Ferrell's character provides a savvy way for Chrysler and Dodge to win consumers' attention while making them laugh, so the association is especially productive for the automaker's marketing efforts, all while reintroducing Burgundy to the TV screen.
Viacom's Paramount also stands to benefit as the commercial draws enthusiasm for Burgundy's return to theaters. Paramount CMO Josh Greenstein explained in a statement: "This campaign was an unprecedented opportunity to collaborate with our filmmakers to create new original content and distribute it worldwide in advance of the long-awaited Anchorman sequel release this December. With the personal involvement of Will Ferrell, our writer-director Adam McKay, the comedy team at Funny or Die and the Dodge creative team at Wieden+Kennedy, we were able to create a truly epic partnership."
Four ads debuted on the Web and on television on Saturday, and another showed up during Monday night's Dancing With the Stars, in which Burgundy walked beside the Durango with ballroom music playing in the background. The clips are getting significant attention and are scoring serious hits online. Dodge Brand CEO Tim Kuniskis remains confident that Burgundy's comedy will persuade consumers to sit down and watch the commercial.
He said in a statement seen by The Hollywood Reporter, "Just as Ron Burgundy is kind of a big deal, the 2014 Dodge Durango also stands out in a crowd with its combination of best-in-class power, towing and fuel economy, in addition to its class-exclusive technology."
Now, TV viewers and Web surfers can also enjoy the humor of Burgundy and learn about the Dodge Durango. The initiative is slated to hit social media via Pinterest, Twitter, Instagram videos, GIFs, and memes on a Tumblr page, and it will also debut on Dodge's Facebook (NASDAQ:FB) page.
Don't Miss: Dish and DirecTV: Two Different Strategies to Stay Relevant.