Analog Devices Inc. Earnings: Double-Digit Growth Again
S&P 500 (NYSE:SPY) component Analog Devices Inc. (NYSE:ADI) reported net income above Wall Street's expectations for the second quarter. Analog Devices, Inc. designs, manufactures and markets analog, mixed-signal and digital signal processing integrated circuits used in industrial, communication, computer and consumer applications.
Don't Miss: Wall St. Cheat Sheet's newest Feature Trades of the Month!
Analog Devices Earnings Cheat Sheet for the Second Quarter
Results: Net income for Analog Devices Inc. rose to $241.8 million (78 cents/share) vs. $167.1 million (55 cents/share) in the same quarter a year earlier. A rise of 44.7% from the year earlier quarter.
Revenue: Rose 18.3% to $790.8 million YoY.
Actual vs. Wall St. Expectations: ADI reported adjusted net income of of 75 cents/share. By that measure, the company beat the mean estimate of 68 cents/share. Estimates ranged from 66 cents per share to 70 cents per share.
Quoting Management: "The second quarter was a strong quarter for ADI, well ahead of our expectations, with revenue growing 9% sequentially and 18% year-over-year, driven by strength in our industrial, automotive, and communications infrastructure businesses," said Jerald G. Fishman, President and CEO. "In addition, our gross margin increased to 67.6% and our operating margin increased to 37.8%, both records for ADI. As a result, EPS from continuing operations grew even faster than revenue, by 14% sequentially to $0.75, excluding a one-time tax benefit."
Key Stats:
The company has enjoyed double-digit year-over-year revenue growth for the past five quarters. Over that span, the company has averaged growth of 32.2%, with the biggest boost coming in the third quarter of the last fiscal year when revenue rose 46.4% from the year earlier quarter.
Last quarter marked the fifth consecutive quarter of gross margins expanding as the company's gross margin expanded 2.5 percentage points to 67.6% from the year earlier quarter. Over that span, margins have grown on average 8.6 percentage points per quarter on a year-over-year basis.
The company has now seen net income rise in three-straight quarters. In the first quarter, net income rose 84.4% and in the fourth quarter of the last fiscal year, the figure rose more than twofold.
Competitors to Watch: Texas Instruments Inc. (NYSE:TXN), National Semicond. Corp. (NYSE:NSM), Intersil Corporation (NASDAQ:ISIL), Linear Technology Corp. (NASDAQ:LLTC), Maxim Integrated Products Inc. (NASDAQ:MXIM), ON Semiconductor Corp. (NASDAQ:ONNN), Silicon Laboratories (NASDAQ:SLAB), Cirrus Logic, Inc. (NASDAQ:CRUS), Broadcom Corporation (NASDAQ:BRCM), and Micrel, Incorporated (NASDAQ:MCRL).
Stock Performance: Shares of ADI are up over 4% from the previous close.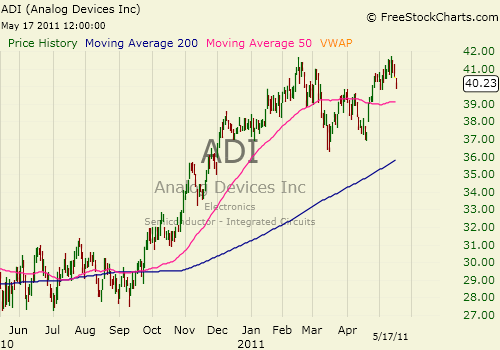 Don't Miss Wall St. Cheat Sheet's newest Feature Trades of the Month!