Analyst: Amazon Stock May Be Cooling Off With New Fire Smartphone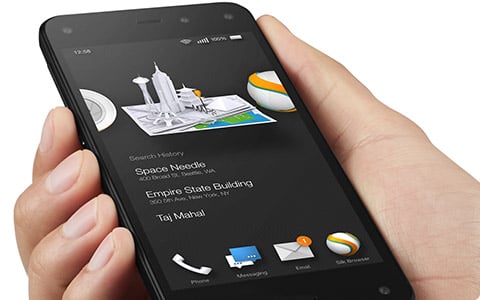 On Wednesday, Amazon (NASDAQ:AMZN) announced Fire, the company's first entry into the smartphone market. The phone offers several exclusive features that should allow it to compete in the highly competitive smartphone market currently dominated by Apple and Samsung. The key differentiators for Amazon's phone include access to Amazon's content library and proprietary features already available on Kindle Fire tablets (including ASAP, the Mayday button, Second Screen, and X-Ray), Firefly, Dynamic Perspective, and free unlimited photo storage in the cloud. Also, for a limited time, a year-long Amazon Prime subscription will be included for free with a Fire smartphone purchase, for both new and existing Amazon Prime customers. The phone's specifications include a quad-core Qualcomm Snapdragon 2.2 GHz processor, 2 GB of RAM, a 4.7 inch HD display, LTE, and dual stereo speakers with Dolby Digital Plus.
Fire will be available on July 25 only at AT&T. The phone's price on a 2-year contract will be $199 or $27.09 per month for the 32 GB version, or $299 or $31.25 per month for the 64 GB version. We believe it is essential for Amazon to sell its phone through carrier stores, and believe that new features such as Firefly and Dynamic Perspective will be easier to explain and understand if a salesperson is involved. We do not expect Amazon to make a profit on the hardware, and have modeled zero gross margin contribution. We believe that the phone positions Amazon to collect consumer data that will enable it to better target sales of other products. For example, if a Fire smartphone owner watches Transformers, Amazon could offer the toys, DVDs, or video games. If a customer watches documentaries on fishing, Amazon may offer rods and reels.
Dynamic Perspective will allow for an immersive smartphone experience. One-handed gestures such as auto-scroll, tilt, swivel, and peak will allow for easier navigation. The feature will also allow for more immersive app and game development, enabling users to see different angles depending on how they hold and view the phone.
Firefly is a separate button on the side of the Fire smartphone that activates image, text, and audio recognition. The button can be used to identify web and email addresses, phone numbers, barcodes and QR codes, and over 100 million products that Amazon will be able to sell to users.
Firefly will eventually incorporate the ability to translate foreign languages and identify wine labels.
As of April 2014, roughly 168 million people in the U.S. owned smartphones, representing nearly 70 percent mobile market penetration. According to Gartner, smartphones represented 53.6 percent of mobile phone sales in 2013, surpassing sales of feature phones for the first time. Global smartphone sales in 2013 reached almost 968 million, up 42 percent compared to 2012. While we believe it would be foolish to underestimate Amazon's capabilities in hardware given its success with Kindle e-readers, the company had a first-mover advantage in that space. We are not adjusting our model assumptions as we previously incorporated growth in device sales, including Fire TV and new Kindle devices in our estimates.
We are maintaining our NEUTRAL rating and $330 price target. Our PT reflects a P/E multiple of 50x our hypothetical FY:19 EPS of $8.38, discounted back five years. Our rating is based on our assessment that Amazon is unlikely to provide investors with a strategy roadmap. While recent announcements have given us increased visibility into Amazon's revenue growth, we are not convinced that the company will share sufficient details about spending plans to allow us to accurately model profit growth, and it may take time before EPS grows sufficiently to justify its share price.
Investment Thesis
Amazon is a dominant online retailer well on its way to becoming one of the world's largest retailers, in our view. We believe the company enjoys considerable advantages over its brick-and-mortar competitors, due to its low direct overhead. Amazon management is quite ambitious, expanding into expensive digital media through its Kindle and Fire TV hardware and its Prime Instant video streaming, depressing the company's earnings power. Similarly, the expansion of Amazon Web Services has thus far been quite costly, although we think that AWS is at a tipping point and will generate significant leverage going forward. In order to take a position in Amazon, we believe investors must make a leap of faith that its revenues will continue to grow and will generate high contribution margin; we have made the leap of faith on revenues, but the lack of visibility on contribution margin gives us pause, and we prefer to stay on the sidelines. Accordingly, we are maintaining a NEUTRAL rating on Amazon shares.
Risks to the attainment of our share price target include a lack of financial visibility, increasing competition, changes in consumer preferences, changes to the terms or economics of its agreements with its customers or suppliers, dependence on its shipping partners, macroeconomic factors, an evolving tax environment, and legal, regulatory, and security risks, among other factors.
Michael Pachter is an analyst at Wedbush Securities. 
More From Wall St. Cheat Sheet: