Analyst: Best Buy Price Competition Will Continue to Erode Margins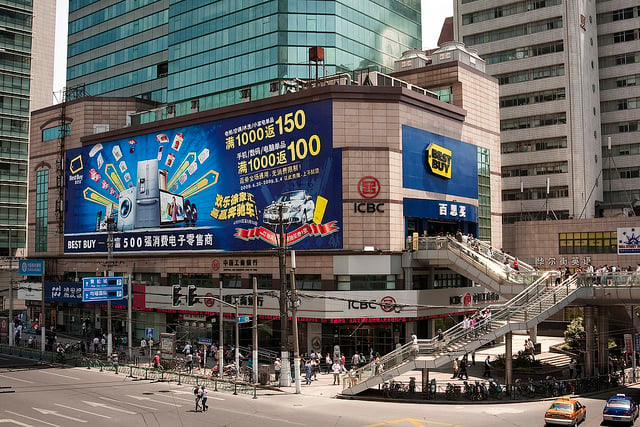 The following is an excerpt from a report compiled by Michael Pachter of Wedbush Securities.
Q2 EPS upside from cost control. Revenue was $9.3 billion, compared with our estimate of $9.2 billion and the consensus estimate of $9.1 billion. Non-GAAP EPS was $0.32 (excluding a $0.37/share net benefit primarily from LCD settlements), compared with our estimate of $0.07, and the consensus estimate of $0.12.
Best Buy (NYSE:BBY) eliminated an additional $65 million in annualized costs, bringing the total annualized cost reductions to $390 million. Lower costs drove profits marginally higher, but comps and margins continue to decline. Until Best Buy can reverse its negative comp and margin trends, we cannot recommend the stock.
Top-line weakness continued through Q2, while domestic online sales grew 10.5 percent to $477 million. The company reported comps of down 0.6 percent. Overall sales were down 0.4% year-over-year, with domestic up 0.1 percent, and international down 2.9%, compared to our estimate of down 1 percent. While online grew an impressive $45 million, it only slightly exceeded the comp decline of $31 million.
Visibility remains poor. The lack of revenue and earnings guidance adds a layer of uncertainty about the company's future, particularly as comps and margins continue their long-term downward trend. It provided cryptic guidance regarding the impact of three initiatives on operating income, implying a sharp decline in EPS this year and next. We think the company's inability to guide reflects a lack of confidence in its core business, and highlights the many difficulties that it faces.
We are raising our FY:14 estimates slightly to reflect upside in Q2. Our EPS estimate goes to $1.99 from $1.80, with Q2 upside partially offset by management's operating expense guidance. We are raising our FY:15 revenue estimate slightly to $42.1 billion from $41.9 billion, and decreasing our EPS estimate to $1.56 from $1.66 to reflect management's operating expense guidance.
Comps and margins appear destined to continue their downward trend. Best Buy management is resolute in its determination to compete on price, and thus far, its efforts appear to be bearing little fruit. We see no end in sight, and expect price competition at holiday to challenge comps and erode margins further.
We reiterate our UNDERPERFORM rating and 12-month price target of $9. Our target reflects our expectations for further margin erosion, low visibility, lack of FY:14 guidance, and our doubts about the company's turnaround plan. We expect comps declines to continue, notwithstanding price matching.
Michael Pachter is an analyst at Wedbush Securities. 
Don't Miss: Big Money Loves These 10 Stocks.