Analyst: Best Buy Will Suffer From Migration to Online Retail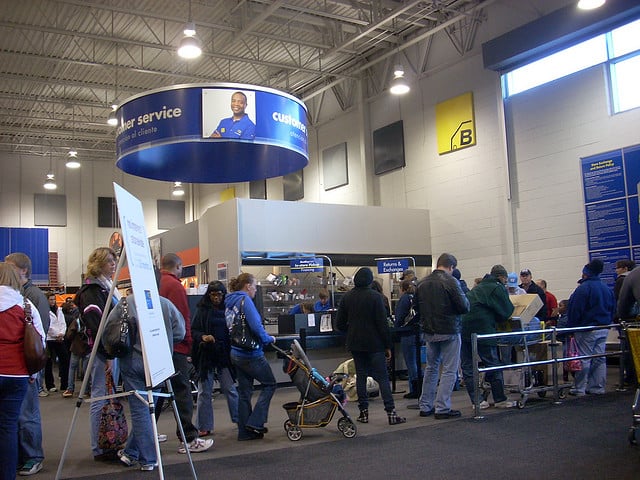 The following is an excerpt from a report compiled by Michael Pachter of Wedbush Securities.
Best Buy (NYSE:BBY) will report its fiscal Q2:14 results before market open on Tuesday, August 20, and host a conference call at 5am PT (800-762-8779, conf. ID: 4635419, or webcast at http://www.investors.bestbuy.com).
We expect Q2 revenue and earnings in line with our estimates. We expect revenue of $9.24 billion and EPS of $0.07, vs. consensus for revenue of $9.10 billion and EPS of $0.11. We expect total comps in line with our estimate of down 1.4 percent (domestic down 0.5 percent, international down 6.2 percent).
We are revising FY:14 EPS estimates to $1.80 from $1.74 vs. consensus of $2.19 to reflect adjustments to working capital, debt refinancing, and product mix. We are revising FY:15 estimates for EPS to $1.66 from $1.56 vs. consensus of $2.38 to reflect lower interest expenses and product mix.
Best Buy completed the sale of Best Buy Europe to Carphone Warehouse during Q2:14 and we expect related transaction expenses during the quarter. We expect Best Buy to share its plans for use of the proceeds.
We continue to expect Best Buy's cash flow to decline. The company's price match may eventually stem the continuous comp declines experienced in the last three years; however, continued margin erosion from the price match is likely to result in lower profits, and we do not expect cost cuts to fully offset these lower profits. Q1:13 domestic online sales comp of up 16.3 percent would imply in-store comps were worse than the down 1.1 percent comp experienced in the domestic segment.
We do not expect management to provide Q3:14 or FY:14 guidance. The lack of revenue and earnings guidance adds a layer of uncertainty about the company's future, especially given expected declines in cash flow. In our view, the lack of guidance reflects the company's lack of confidence in its core business, and highlights the many difficulties that it faces.
Best Buy management is making a solid effort, but we expect that continued migration to online retail will pressure cash flow further. Until we see comp and margin decline trends reverse, we expect to maintain our negative stance.
We reiterate our UNDERPERFORM rating and 12-month price target of $9. Our target reflects our expectations for further margin erosion, low visibility, lack of FY:14 guidance, and our doubts about the company's turnaround plan. We expect comps declines to continue, with price competitiveness eroding margins further.
Michael Pachter is an analyst at Wedbush Securities.