Analyst: Here's Why BofA Will Report Weaker Q3 Results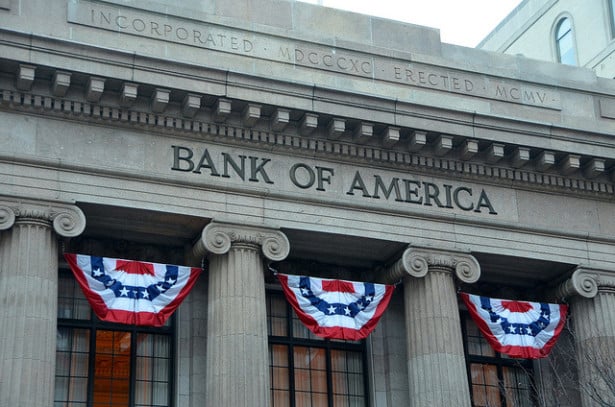 Analysts at Evercore Partners expect Bank of America's (NYSE:BAC) third quarter results to be much weaker than the previous quarter. The culprits for the lower growth that analyst Andrew Marquardt laid out were slowdowns in the bank's mortgage business and in capital markets activity.
The second quarter showed a bank on the mend. Profits rose 63 percent as Bank of America's balance sheet benefited from Chief Executive Officer Brian Moynihan's cost-cutting measures and less fallout from the 2008 mortgage market collapse. "We are doing more business with our customers and clients, and gaining momentum across every customer group we serve," Moynihan said in the earnings press release.
"We must keep improving, but with the consumer recovering and businesses strong, we have lots of opportunity ahead." Investors gained some confidence from the results, bidding shares up a modest 12 cents to $14.04 in pre-market trading on July 17, the day of the earnings release. Shares continued to climb for another few days, hitting a 52-week high of $15.03 on July 23.
"There's probably not enough positives from the revenue lines to propel the stock much higher today, given recent gains," Raymond James analyst Anthony Polini told USA Today, adding that the bank improved profit margins by cutting expenses, including thousands of layoffs. "But, very solid quarterly performance." Polini was right, shares have since backed off the 52-week high, trading between about $13.65 per share and $14 per share for most of this week.
Still, for much of this year, investors have seemed confident that Bank of America's finances are indeed in a "solid" position now that the trauma of the financial crisis has noticeably abated. Shares have gained about 20 percent so far in 2013 and almost 50 percent in the past 12 months. While the company's share price may lag some of its peers — like Citigroup (NYSE:C) and JPMorgan Chase (NYSE:JPM), it has gained 9.31 percent in the past three months while Citigroup has advanced just 2.39 percent and JPMorgan has declined 0.64 percent.
The financial industry as a whole is expected to post a weaker third quarter. Mortgage rates have been pushed up from May's historic lows, moving higher in mid-August, and the recent upticks in interest rates have lowered demand for refinancing. A slowdown in refinancing activity means that mortgage revenues will be lower, hurting overall results.
But, just because the entire industry is expected to be affected by the changing interest rate environment or because Marquardt believes Bank of America's third quarter will be less impressive than its second, does not mean that the bank will under perform its peers in third quarter. Even Marquardt expects that Bank of America will report core earnings per share of $0.23, which is  cents above the consensus estimate for the third quarter.
Marquardt explained that Bank of America will beat expectations because it can offset the slowdowns in its mortgage business and in capital markets activity with lower expenses. The fact that the bank's asset quality remains strong and it experienced most capital build in the third quarter are contributing factors as well.
Other analysts maintain that Bank of America is the best-positioned among large United States banks to weather the tough third quarter earnings season. Keefe Bruyette & Woods analyst Christopher Mutascio wrote in a October 2 report that his firm believes the company will be able to offset the negative trend. Bank of America may have "more levers to pull [like lower expenses and greater reserve releases] to offset weak trends in fee income [ including mortgage and trading] than most banks heading into [third quarter] earnings season," he wrote.
It is true that with loan growth tepid, there are few obvious sources of income growth to replace mortgages. But now that more borrowers are repaying their loans on schedule, banks like JPMorgan, Wells Fargo (NYSE:WFC), and Bank of America will be able to keep less money on hand to cover loans losses.
This will give banks billions of dollars in extra profit by "releasing reserves" of capital that was set aside in tougher economic times to cover bad loans. "We are in a better quality environment that still is not a growth environment," NAB Research analyst Nancy Bush told Reuters.
Follow Meghan on Twitter @MFoley_WSCS
Don't Miss: Are Stressful Weeks Ahead for Investors?