Analyst: Netflix Starting to Feel Pressure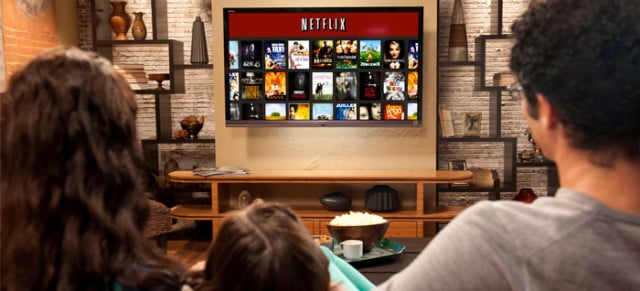 The following is an excerpt from a report compiled by Michael Pachter of Wedbush Securities.
Netflix (NASDAQ:NFLX) will report fourth-quarter results after market close on Wednesday and host a live video discussion at 2 p.m. PT (webcast: youtube.com/netflixir). Similar to Q3, the discussion will be moderated by two sell-side analysts.
We expect Q4 results in line with our estimates. Our current estimates are for revenue of $1.16 billion and earnings per share of 60 cents versus consensus of $1.17 billion and 66 cents, and guidance of 47 cents-73 cents (no revenue guidance was provided). We expect EPS below consensus, reflecting steady ad spending throughout Q4 to drive subs. Our bias is there may be upside to our Q4 domestic streaming net adds estimate of 2 million, which is at the midpoint of guidance of 1.61 million-2.41 million.
We expect conservative Q1:14 domestic streaming net adds guidance. We expect a range with a high end of only 1.5 million, well below the midpoint of Q4 guidance of 1.61 million-2.41 million and net adds in Q1 of last year of 2.03 million. We do not expect the second season of House of Cards to be the subs driver that the first season was last year.
The risk of domestic saturation is growing over time, as Netflix ended Q3 with more than 31 million domestic streaming subs, above roughly 30 million for HBO (according to Netflix management). Also, Amazon's (NASDAQ:AMZN) Prime service continues to gain subs, adding over 1 million in the third week of December.
We view the recent net neutrality ruling as a negative. As a result, ISPs are permitted to discriminate between websites based upon bandwidth usage. We think Netflix may see its users throttled by ISPs unless users or Netflix itself pay for unrestricted delivery. If it decides to raise prices, it could face a user backlash. If it decides to absorb these fees, we estimate net income per user could decline by $1 per month, or $360 million per year, two-thirds of 2014 consensus EBITDA.
We continue to expect pressure on FCF as Netflix improves the quality of its content library and incurs costs for recent deals. The difference between negative FCF and positive net income will ultimately be required to be expensed and will reduce future profitability; over the last five quarters, this difference totals almost $3 per share, with PF net income of $96 million and FCF of $(93) million.
Maintaining our UNDERPERFORM rating and 12-month price target of $160. Our PT reflects a sum-of-the-parts valuation of domestic streaming, international streaming, and domestic DVD. We believe Netflix's high valuation is unwarranted given potential for slowing domestic growth, coupled with increasing content costs.
Michael Pachter is an analyst at Wedbush Securities. 
Don't Miss: 10 Stunning Places to Visit in 2014.