Analyst Predicts New Apple Product Event on the Horizon
Piper Jaffray, the research and investment banking firm, is predicting that Apple (NASDAQ:AAPL) will be launching a brand-new or updated product sometime this spring. Although lacking any insider information about what new or revamped Apple products will be unveiled, Piper Jaffray analyst Gene Munster is sure that "the company will introduce something new in March or April."
Munster's prediction is based on careful research of the timeline between previous Apple launches of major new products. After reviewing Apple launch events since 2009, Munster discovered that Apple introduces new products approximately every four months. This would seem to point to an Apple event occurring sometime later this month, which would likely mean event invitations would soon go out to the press.
However, there have been exceptions to this pattern. In 2011, there was a 7-month gap between the introduction of the iPad2 and the launch event for the iPhone 4S. Munster believes that the delayed launch of the iPhone 4S was an anomaly, most likely due to issues that Apple was having integrating the Siri code into iOS…
Missing their planned summer launch for the iPhone 4S didn't seem to hurt Apple sales however, since the iPhone 4S ended up selling over 1 million units within a 24 hour period.
After taking into consideration all the previously held Apple events, Piper Jaffray's analyst believes that the first big Apple product launch this year will fall somewhere in March or April. Since the last Apple event focused on the introduction of the iPad mini, Munster believes that the next event could focus on a redesigned full-size iPad, perhaps featuring a Retina display. Besides a possible iPad update, Munster also believes that the next event could feature an Apple TV update.
Earlier in the week, Jefferies analyst Peter Misek also predicted that the next Apple event would be television-related. On the other hand, respected, but notoriously cryptic Apple product seer Jim Dalrymple seemed dismissive of Munster's Apple predictions. Instead of an iPad and Apple TV reboot, Dalrymple believes that the next two big Apple events will focus on the iPhone and the iPad Mini.
Here's how Apple has traded over the past month: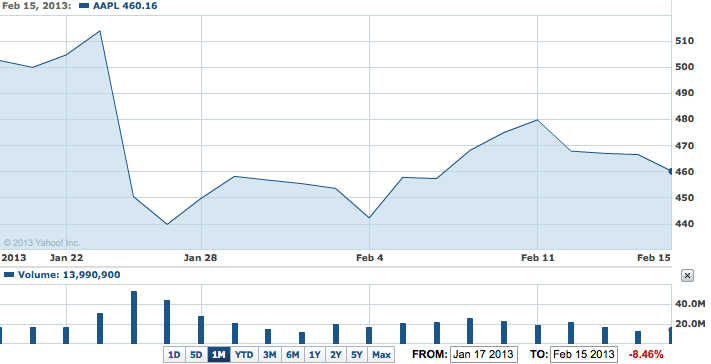 Don't Miss: Analyst: iPad Upgrades Coming Before April.