Analyst: Raising Estimates for Amazon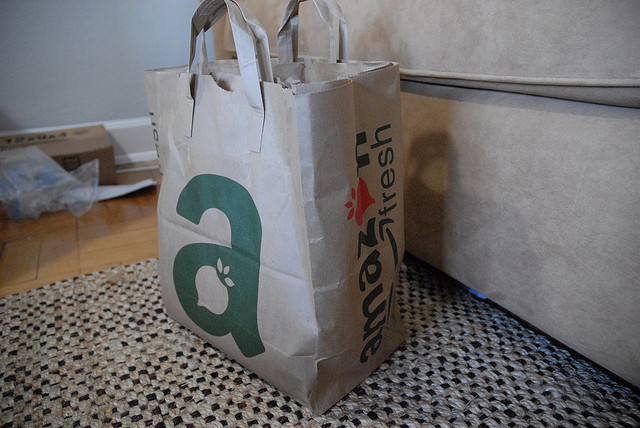 Amazon.com (NASDAQ:AMZN) signed up millions of new Prime members during the quarter. The combination of growing Prime membership, increasing convenience, increased selection, competitive pricing and the potential for same-day delivery should increase basket size, and in turn, should allow Amazon's product sales to grow dramatically going forward.
Q3 revenue was slightly upbeat from higher-than-expected international revenues and EPS missed slightly from lower gross margins and higher operating expenses. Revenue was $17.1 billion, compared with our estimate of $16.8 billion and the consensus estimate of $16.8 billion. GAAP EPS was $(0.09), compared with our estimate of $(0.08), and the consensus estimate of $(0.09). Operating Income came in at $(25) million. The company provided Q4:13 guidance for net sales of $23.5 – 26.5 billion and an operating income of $(500) – 500 million.
During the quarter, Amazon brought 8 million square feet of fulfillment center capacity online and deployed 1,382 Kiva robots in three FCs. We are excited to see how margins are impacted as the Kiva rollout continues.
Amazon announced the Kindle Fire HDX family of Kindle products in time for the holiday season. The new Kindles have several differentiating features such as the Mayday button and access to Prime videos while offline.
Margins will likely be pressured by the continued expansion of the Amazon Prime Instant Video catalog. We believe the recent increase in Amazon's video content spending is already reflected in its financial statements. It is impossible to determine the level of its absolute spending on streaming content, but we believe that Amazon is spending in excess of $1 billion annually for streaming video rights, compared to Netflix's (NASDAQ:NFLX) spending in excess of $2 billion.
We are raising our FY:13 revenue estimate to $74.8 billion from $74.5 billion and decreasing our EPS estimates to $0.89 from $0.90, to reflect Q3 results. We are raising our FY:14 revenue estimate to $91.5 billion from $91.2 billion, and increasing our EPS estimate to $2.91 from $2.90. Maintaining our NEUTRAL rating and $330 price target. Our PT reflects a P/E multiple of 50x our hypothetical FY:19 EPS of $8.38, discounted back five years. We remain neutral as we have little confidence in its desire to provide investors with a strategy road map. We are not convinced it will share sufficient details about spending plans to allow us to accurately model profit growth, and it could be a long time before EPS grows sufficiently to justify its share price.
Michael Pachter is an analyst at Wedbush Securities.
Investing Insights: Can Sirius XM Radio Continue to Rise?