Analyst: Rave Acquisition Will Facilitate Cinemark Revenue Increase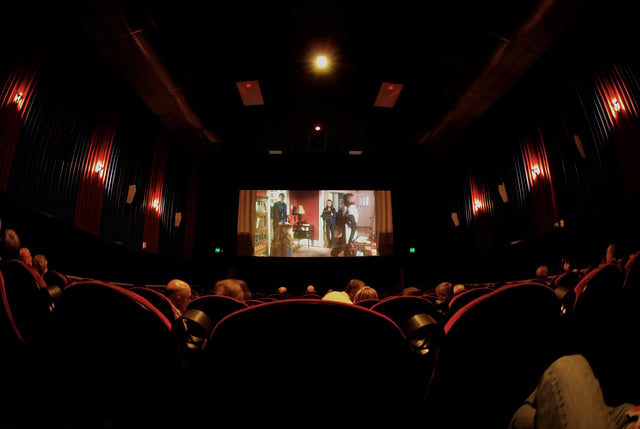 The following is an excerpt from a report compiled by Michael Pachter of Wedbush Securities. 
Cinemark (NYSE:CNK) Holdings will report Q2:13 results before the market open on Tuesday, August 6, and will host a conference call at 5:30am PT (dial-in: 888-755-8910, webcast: investors.cinemark.com).
Q2:13 domestic box office ended up 7.8 percent year-over-year due to a strong summer blockbuster release slate. Q2:13 box office performance improved as the quarter progressed. April's performance was particularly weak, ending down 12.1 percent, against a weak comp of down 9.0 percent for 2012. May box office was up 11.3 percent, even though The Avengers, which grossed over $600 million in FY:12, set a formidable comp for Iron Man 3. May 2013 had four films open with box office figures over $100 million, while May 2012 had only one. June box office was up significantly over 2012, up 17.9 percent from Man of Steel and Monsters University.
We expect Q2:13 results in line with our recently revised estimates for revenue of $714 million vs. consensus of $711 million and for EPS of $0.48 vs. consensus of $0.51. We expect admissions revenue to increase 12 percent due to higher domestic attendance and increased number of screens from the Rave acquisition. We expect film rental costs as a percentage of admissions revenue to increase in Q2, due to the higher concentration of box office in the top 10 films.
Q2:13 showed average growth of approximately 7 percent across Cinemark's Latin American markets, according to boxofficemojo. We estimate that international admissions revenue per average screen will comp lower than the market growth numbers due to an increase in theaters and higher reporting percentages incorporated into the market growth calculations.
We expect Q3 domestic box office to end up 8 percent from a strong release slate and easy comps. Q3:12 experienced year-over-year decreases in the box office each month of the quarter, even though The Dark Knight Rises reached almost $450 million at the box office last year. Q3 is trending up 3.5 percent y-o-y through July 30. The sale of 31 Mexican theaters, expected during 2H:13, will drive lower international revenue year-over-year growth rates following the closing of the sale.
Maintaining our NEUTRAL rating and $29 price target. After accounting for Cinemark's ownership stake in National CineMedia, we arrive at a $29 price target, which reflects a 6.5x EV/EBITDA multiple on 2014 estimates, slightly above its historical multiple and peers. We maintain Cinemark's multiple to reflect its growth opportunities domestically and internationally, balanced with increasing net debt and our caution given its dependence on economic growth in Latin America.
Michael Pachter is an analyst at Wedbush Securities.