Analysts: Blackberry's Merger Is Off the Table and 3 More Research Notes to Check Out
BlackBerry Ltd. (NASDAQ:BBRY): Wells Fargo reduced its price target on BlackBerry to $6.10-$6.50 from $8-$9 after Fairfax withdrew its tentative offer for the company. The firm sees little chance of the company selling itself, and Wells thinks that its core business has deteriorated further recently; while Wells believes that BlackBerry can transform itself into a smaller, profitable entity, the firm thinks the transition will likely be difficult and keeps a Market Perform rating on the shares.

Embraer SA (NYSE:ERJ): UBS downgraded Embraer to Neutral from Buy based on 2014 margin concerns and expects Street estimates to dip further given a less-than-favorable 2014 delivery mix, lower regional jet volume, and wage inflation; the firm lowered its price target on Embraer shares to $31 from $39.

Jack in the Box Inc. (NASDAQ:JACK): Oppenheimer expects Jack in the Box to benefit from easy comps, new business drivers, higher margins, and a more thoughtful strategy for its Qdoba restaurants; the firm expects the company to report in-line fourth quarter earnings per share but provide bullish guidance. The firm keeps its Outperform rating on Jack in the Box shares.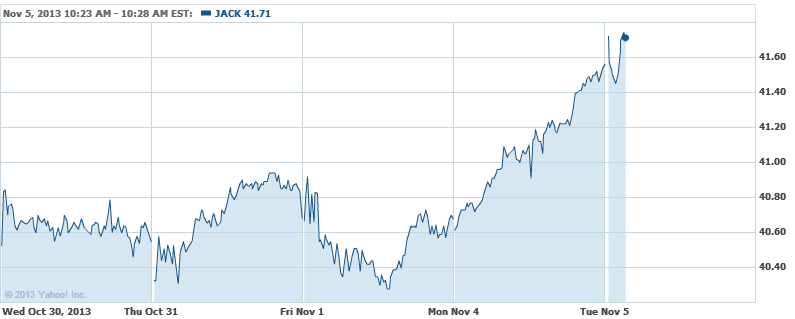 Best Buy Co. (NYSE:BBY): Piper Jaffray raised its price target for Best Buy shares to $53 from $44 based on expectations that the company's space optimization initiative will drive substantial benefits; Piper estimates space optimization can drive a comp benefit of 4.3 percent as well as earnings of 73 cents over a two-year ramp-up period and reiterates an Overweight rating on Best Buy stock.

Don't Miss: T-Mobile Earnings: Stick Together, with Smartphones.