Analysts: Buy Green Mountain on Pullback and 3 More Research Notes to Look Into
Green Mountain Coffee Roasters (NASDAQ:GMCR): Buckingham has initiated Green Mountain Coffee with a $90 price target and Buy rating, as the firm views the recent pullback in shares due to grocery channel share loss as a buying opportunity. It adds that Green Mountain holds competitive advantages and expects brewing machines to double in domestic household penetration rates over the next five years; near-term, Buckingham believes that the addition of unlicensed store brands will calm concerns, and high short interest rates should support the shares.

JPMorgan Chase & Co. (NYSE:JPM): Following JPMorgan's announcement of a $13 billion settlement with the U.S. government over improper mortgage allegations, Wells Fargo believes the bank has significantly reduced the legal and regulatory overhang it faced and further finds the stock's valuation attractive even if JPMorgan opts to suspend its share buybacks. The firm keeps an Outperform rating on the shares.

Boeing Co. (NYSE:BA): Oppenheimer has downgraded Boeing to Perform from Outperform, as the firm thinks that the company will reach a medium-term peak in 2015, led by investments in new planes for that year and combined with reduced revenue from several military planes by 2016.

Home Depot Inc. (NYSE:HD): R.W. Baird says that Home Depot is still a Top Idea, as the company's third-quarter earnings reinforced the firm's positive thesis on the stock. Baird believes that the next catalyst will be December's investor meeting and noted that comparable sales strength and Pro customer trends remain encouraging. The shares are Outperform rated with a $93 price target.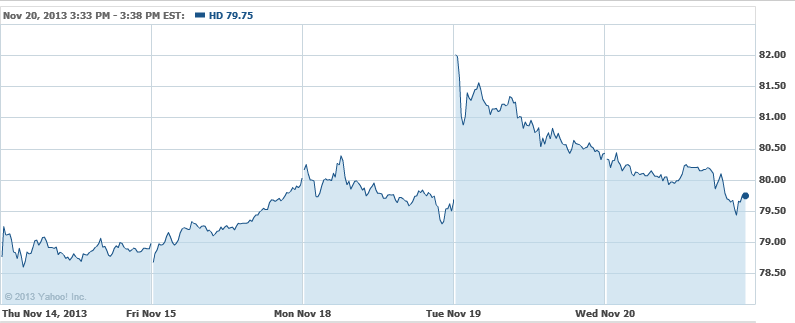 Investing Insights: Where Will Home Depot Go Post-Earnings?