Analysts: Dick's Sporting Can Gain Market Share and 3 More Research Notes to Read
Dick's Sporting Goods (NYSE:DKS): Argus is confident that Dick's can gain market share, noting that Dick's e-commerce sales jumped 50 percent last year.  The firm thinks the company can also increase its operating margin, and it keeps a Buy rating on the shares.

Yahoo (NASDAQ:YHOO): Before the company's second-quarter results are released Tuesday, Needham raised its estimates and price target to $31 from $26 for Yahoo, and keeps a Buy rating on the stock. The firm upped its earnings estimates to reflect a lower tax rate and calls Yahoo one of its top stock picks for 2013.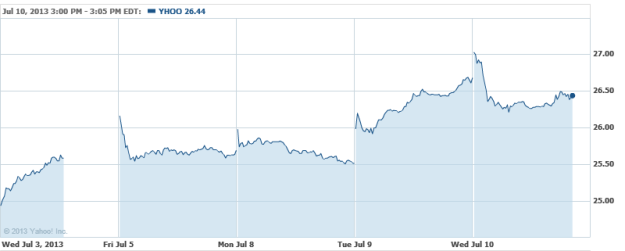 IMAX (NASDAQ:IMAX): B. Riley reduced its third-quarter revenue estimates for IMAX to $128 million from $160 million due to the delay of 300: Rise of an Empire to the first quarter of 2014 from the third quarter of 2013. However, the firm continues to expect IMAX's screen monetization to improve starting in 2014, and it reiterates a Buy rating on the stock.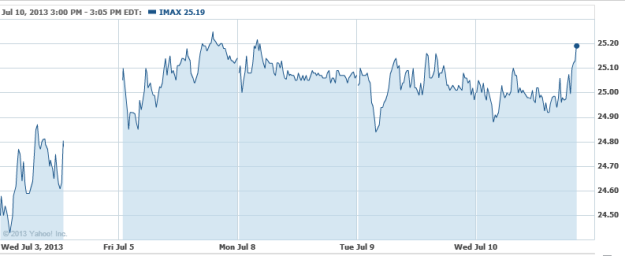 Sprint (NYSE:S): RW Baird points out that Sprint closed its acquisition of Clearwire (NASDAQ:CLWR) and that SoftBank is expected to close its investment in Sprint on Wednesday, adding that Sprint will possess more total spectrum than anybody in the U.S. It remains unclear what Softbank will do to improve Sprint's subscriber growth and profitability. The firm keeps a Netural rating and $7 price target on the shares.

Don't Miss: Top 5 Foreign Purchasers of U.S. Real Estate.