Analysts: Due Diligence May Hurt BlackBerry and 3 Other Research Notes to Browse
BlackBerry (NASDAQ:BBRY): Canaccord lowered BlackBerry's price target to $7 from $9 based on sum-of-the parts valuation and the belief that the potential sale to Fairfax Financial will be concluded at around $7 per share following further due diligence. The shares are Hold rated.

BankUnited (NYSE:BKU): After meeting with BankUnited's CFO and COO, Wells Fargo is more confident that BankUnited represents the single most compelling growth story in mid-cap banks. The firm believes the bank's build-out of its New York operations provide it with a compelling opportunity, and Wells thinks that its loan growth can exceed expectations in 2014. Wells keeps an Outperform rating on the shares.

Panera Bread (NASDAQ:PNRA): Morgan Stanley downgraded Panera Bread to Equal Weight from Overweight. The analyst downgraded shares following survey results that suggest that consumers have a low value perception and are not pleased with pricing.

Achillion (NASDAQ:ACHN): William Blair downgraded Achillion to Market Perform from Outperform and lowered its price target for shares to $5 from $14, citing the sovaprevir clinical hold and the initial RVR results of the Phase II 007 study. This is the fourth downgrade of the company by Wall Street firms on Monday.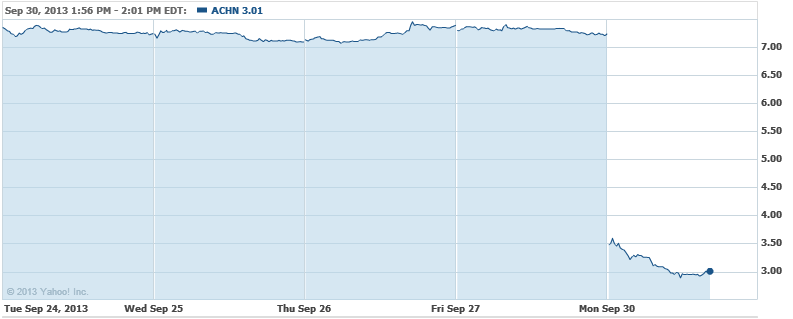 Don't Miss: Is This Another Nail in the Coffin for BlackBerry?