Analysts: Facebook May Get Hurt and 3 Other Analyst Notes To Look At
Facebook (NASDAQ:FB): Facebook shares may be hurt by slowing monetization, according to Pacific Crest, which also warns the social network may report results in the first half of the year that are below estimates. The firm keeps a Sector Perform rating on the shares.

Thermo Fisher (NYSE:TMO): Thermo Fisher valuation range has been raised by Wells Fargo to $88-$92 from $78-$82 after its deal to buy Life Technologies (NASDAQ:LIFE). According to the firm, Thermo Fisher should easily be able to meet its accretion targets and longer-term synergy targets. The deal, in addition, would give it the industry's broadest product portfolio and deepest distribution network. It keeps an Outperform rating.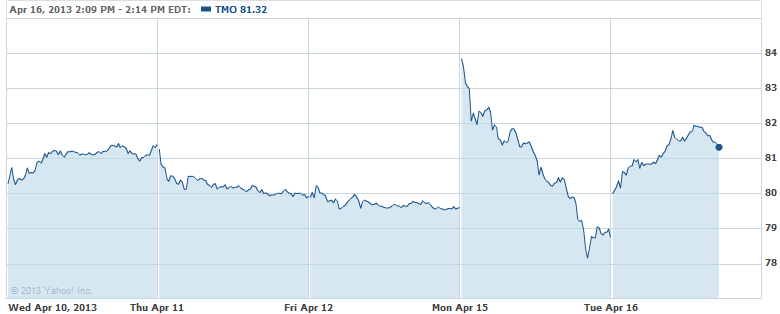 Syneron Medical (NASDAQ:ELOS): Syneron Medical's first quarter may be weaker than expected, according to Maxim. The research firm believes the company faced several challenges in the three months that may weigh on revenues and earnings, and drive weaker results. The challenges included lower-than-expected results in Europe and a pushed-out "Me" launch to the second quarter. However, Maxim remains positive on Syneron's long-term outlook and keeps its Buy rating.

Textron (NYSE:TXT): Textron is likely to report stronger-than-expected Q1 results, says Stifel, which expects numbers to have been boosted by strong Bell Helicopter sales. The firm expects the company's 2013 EPS to be a penny less than consensus, but believes that the market for mid-size business jets in China could be significant. It keeps a Buy rating on shares.

Don't Miss: Is Microsoft Really Dissing Google and Apple?