Analysts: First Solar Miss Was Timing Related and 3 More Research Notes to Check Out
First Solar (NASDAQ:FSLR): Citigroup believes that First Solar's second quarter earnings miss is due to a timing issue — and that the company's fundamentals remain intact. The firm thinks First Solar's deal with GE will enhance its ability to secure projects in emerging solar markets, keeping a Buy rating on the stock with a $50 price target.

Yum! Brands (NYSE:YUM): Bank of America/Merrill Lynch has upgraded Yum! Brands to Neutral from Underperform, largely based on valuation. The firm also increased its price target to $79 from $60 based on a shift to 2014 estimates.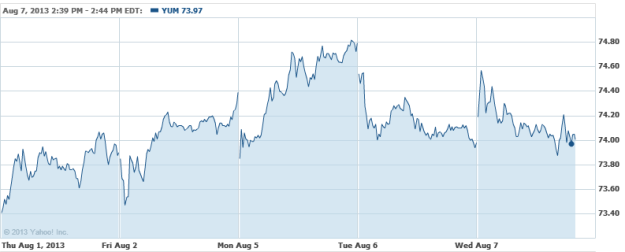 NetApp (NASDAQ:NTAP): JPMorgan has raised its estimates for NetApp after its research revealed that the company's conversion rate of bookings improved in recent months. The firm sees limited downside risk to the July quarter results, and upped its price target for shares to $45 from $41 while keeping an Overweight rating on the stock.

Marathon Oil (NYSE:MRO): Bank of America/Merrill Lynch has downgraded Marathon Oil to Neutral from Buy based on valuation and limited production visibility excluding the U.S. The price target has also been lowered to $42 from $45.