Analysts: GE Can Meet or Beat 2013 Expectations and 3 More Research Notes to Read
General Electric Co. (NYSE:GE): UBS believes that General Electric's risk/reward profile is favorable through the end of the year and is on track to meet or even beat its fiscal year 2013 expectations. The firm expects General Electric to mount further industrial margin expansion efforts next year, along with "shareholder friendly activity." The shares are Buy rated with a $29 price target.
OpenTable Inc. (NASDAQ:OPEN): Piper Jaffray has raised its price target for OpenTable to $84 from $80, citing the company's strong third-quarter results, and says that OpenTable's efforts to push dinner growth are just getting off the ground. The firm reiterates an Overweight rating on the shares.
Bristol-Myers Squibb Co. (NYSE:BMY): Leerink has raised its price target for Bristol-Myers to $58 from $49 to better reflect the long-term position in immuno-oncology. The firm thinks that immuno-oncology could be the most transformative class of therapies of the biopharmaceutical industry over the next decade, and it keeps an Outperform rating on Bristol-Myers.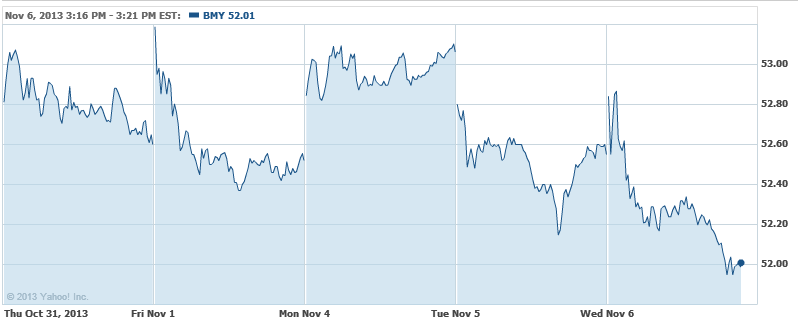 Melco Crown Entertainment (NASDAQ:MPEL): Wells Fargo has raised its 2014 property estimate for Melco Crown even further above the consensus after the company reported third-quarter results the firm considers to be strong. Wells Fargo continues to recommend buying Melco Crown shares.

Don't Miss: Here Is How Chesapeake Energy Corporation Has Grown.