Analysts: Green Mountain Faces Increasing Competition and 3 More Research Notes to Peruse
Green Mountain Coffee Roasters (NASDAQ:GMCR): Detwiler's checks indicate that Green Mountain's market share and pricing power are being challenged by aggressive discounting on the part of competitors relative to last year, and the firm expects the trend to continue as competition increases; the analyst expects K-Cup prices to continue to decline and Green Mountain's shares to continue to erode due to pressuring volume growth rates.

Zogenix Inc. (NASDAQ:ZGNX): William Blair doubled its price target for Zogenix shares to $6 from $3 after the company received Food and Drug Aadministration approval for its chronic pain treatment Zohydro; the firm believes there is substantial opportunity for Zohydro, and the analyst maintains an Outperform rating on Zogenix stock.

Express Scripts Inc. (NASDAQ:ESRX): Oppenheimer believes that the recent multiple compression experienced by Express Scripts's stock overestimates the risk posed to the company by the new health care exchanges; the firm keeps a $74 price target and Outperform rating on Express Scripts shares.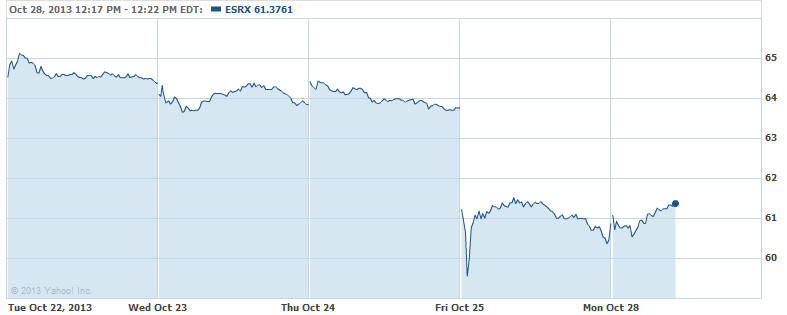 Regal Entertainment (NYSE:RGC): Barrington increased its price target on Regal Entertainment to $26 from $21 after the company reported higher-than-expected third-quarter earnings per share; the firm notes that movie attendance was strong in the U.S. during the third quarter and keeps an Outperform rating on Regal Entertainment.

Don't Miss: Burger King Didn't Deliver a Whopper in the Third-Quarter.