Analysts: Hertz Weakness Is a Buying Opportunity and 3 More Research Notes to Peruse
Hertz (NYSE:HTZ): MKM Partners says it would use the Hertz weakness related to higher fleet costs as a buying opportunity; the firm said higher fleet costs do not change the company's earnings power and added there is no incremental information in 2014 guidance.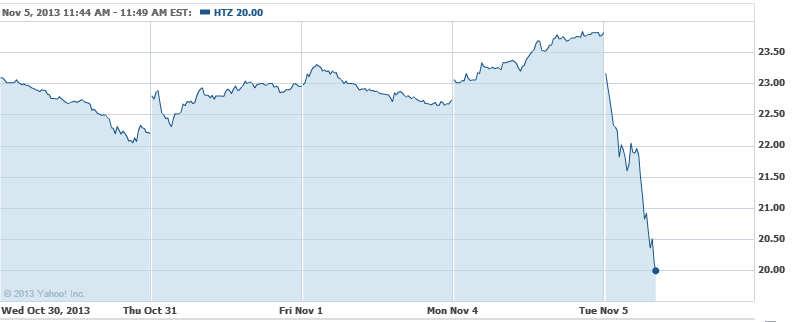 Priceline.com (NASDAQ:PCLN): Bank of America Merrill Lynch expects Priceline.com to report a positive third quarter, driven by strong hotel additions on Booking.com, easier international comps, and positive industry revenue per available room (RevPAR) commentary; the analyst expects fourth-quarter outlook to be above the Street, maintains its Buy rating on Priceline.com stock, and increased its price target to $1220.

GT Advanced (NASDAQ:GTAT): Bank of America Merrill Lynch upgraded GT Advanced to Buy from Neutral; the firm upgraded shares citing the multiyear sapphire supply agreement for mobile applications with Apple (NASDAQ:AAPL), which will offset weakness in the solar segment; the analyst raised its price target on GT Advanced shares to $13.

ExlService (NASDAQ:EXLS): JPMorgan downgraded ExlService to Underweight from Neutral and lowered its price target for the shares to $26 from $33 after the company received a termination notice from its largest customer, Travelers; the firm believes the client confidentiality policies that triggered the termination could hurt the company's deal pipeline in the near-term. ExlService was also downgraded this morning at Wells Fargo and Oppenheimer.

Don't Miss: Are Investors Still Hiding in Cash?