Analysts: Home Depot Shares Still Look Good and 3 More Research Notes to Browse
Home Depot (NYSE:HD): Following its stronger than anticipated Q1 results and raised guidance, RBC Capital still believes that the stock is attractive, and will agree with the firm's outlook for EPS growth, which is expected to fall in the high teens. The firm brought its price target from $82 to $88, and maintains an Outperform rating on the shares.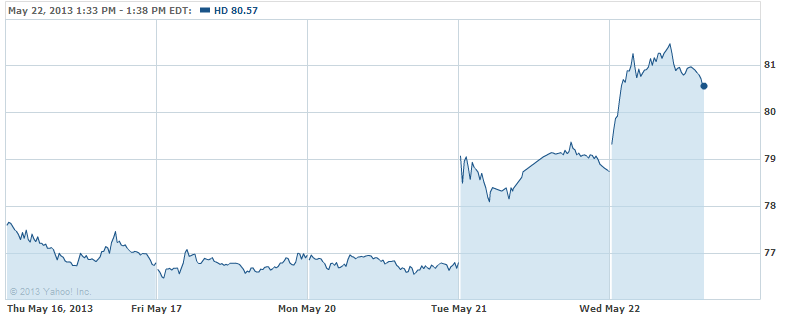 HSBC (NYSE:HBC): Declining U.S. impairments, cost reductions, and favorable mix shifts should help bring HSBC's stock price up, according to Bernstein, which keeps an Outperform rating on the shares.

Chesapeake (NYSE:CHK): Susquehanna has upgraded shares of Chesapeake, citing increased oil and gas forecasts and re-branding initiatives by new CEO Doug Lawler. The firm now rates the shares at Positive, up from Neutral, and has a price target of $26, up from $23.

Bristol-Myers (NYSE:BMY): Citigroup has upgraded shares of Bristol-Myers from Neutral to Buy, based on the long-term potential of the company's immunotheraphy revenue. It also raised its price target from $33 to $55.

Don't Miss: Existing-Home Sales Hit Highest Level Since November 2009.