Analysts: HPQ's Outlook Positive for 2014 and 3 Other Research Notes to Check Out
Hewlett-Packard (NYSE:HPQ): Wells Fargo believes Hewlett-Packard's outlook is positive, noting that HP provided a full-year 2014 earnings per share guidance range with a higher-than-expected midpoint. Wells Fargo believes Hewlett-Packard's turnaround is progressing steadily, while its profits should grow following the 2014 fiscal year; the firm keeps an Outperform rating on the stock.

St. Jude Medical (NYSE:STJ): Following a mixed panel vote on CardioMEMS on Wednesday night, Wells Fargo believes the Food and Drug Administration will ultimately approve CardioMEMS in 2014. The firm continues to believe the FDA wants to approve the device and it keeps an Outperform rating on St. Jude's stock.

Capital One (NYSE:COF): Guggenheim upgraded Capital One to Buy from Neutral. The firm upgraded the Capitol One shares due to reduced consensus expectations, valuation, and recent positive trends; the analyst has raised the price target for the shares to $78 from $75.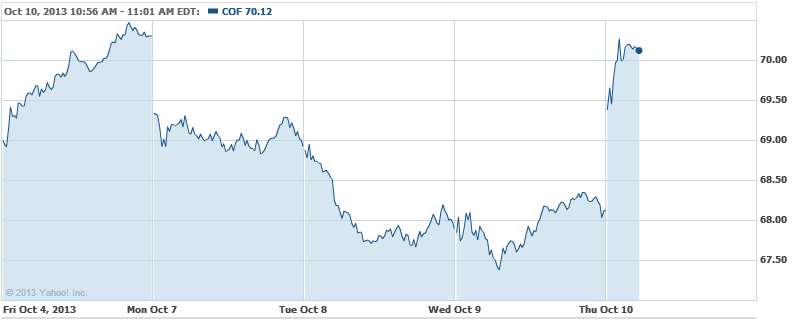 OfficeMax (NYSE:OMX): Janney upgraded OfficeMax from Neutral to Buy due to merger synergies with Office Depot (NYSE:ODP); the firm's price target for OfficeMax shares is $21.50.
Don't Miss: Meg Whitman's 6 Steps to an HP Turnaround.