Analysts Like Morgan Stanley's Turnaround Plan and 2 Other Hot Stocks to Watch
Morgan Stanley (NYSE:MS): Current price $29.51
Analysts seem to approve of the turnaround initiatives for Morgan Stanley set by Chairman and Chief Executive James Gorman for more consistent revenue and higher returns, which were reflected by the firm's third-quarter earnings results. Morgan has been working during the last two years to transform itself into a more stable, less risky company. A facet of the turnaround included the bank's acquisition of the brokerage business Morgan Stanley Smith Barney from Citigroup, and pulling back from the more volatile trading business. Analyst David Hilder at Drexel Hamilton observed that the quarter plainly indicates the benefits for Morgan Stanley shareholders of owning all of the retail securities business."
Microsoft Corp. (NASDAQ:MSFT): Current price $34.76
Microsoft just passed Sony for the top rank in ABI Research's game console Competitive Assessment, based on expectations for the impact of Sony's PS4 and Microsoft's Xbox One game consoles. ABI Research examined several firms across three device categories: game consoles, smart set-top boxes, and TVs/Blu-ray players. A number of factors were employed to score each company based on two main axes of innovation and implementation. The assessment provides deep insight into consumer electronics ecosystems and modern video experiences in the connected household.

J.C. Penney & Co. (NYSE:JCP): Current price $7.16
J.C. Penney is apparently following its arch-rival Macy's in opening its doors on Thanksgiving evening at 8 p.m. The retailer will be opening the majority of its 1,100 stores much earlier than in 2012 during the Ron Johnson days, when Penney's did not open until 6 a.m. Friday. Meanwhile, the store is also bringing back yet another tradition it ditched last year, once again giving away almost 2 million holiday snow globes starting at 4 a.m. on Friday after Thanksgiving. However, shares of the historic retailer have set a new 52-week today at $7.09.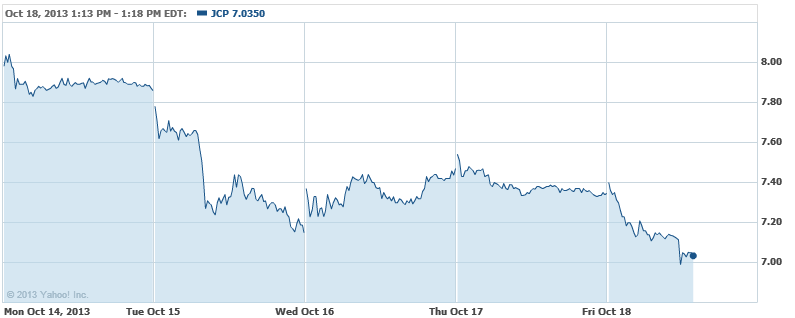 Don't Miss: Morgan Stanley: Make Money by Managing Money.