Analysts: Micron Technology Looking Great and 2 New Opinions Investors Must Take A Peek At
Micron Technology (NASDAQ:MU): Sterne Agee feels incrementally more confident with how the Elpida process is coming along and Micron's position, both strategically and synergistically. According to the research firm, with 99 percent of secured and 67 percent of unsecured approving the deal, the size of unsecured debt on appeal is potentially only to the tune of $40-50 million. Also with Elpida at leading edge 25nm by the second half of the year, incremental annual capital expenditure is potentially in the $500 million to $700 million range, and could be funded partially by Elpida cash flows. Sterne Agee is a buyer.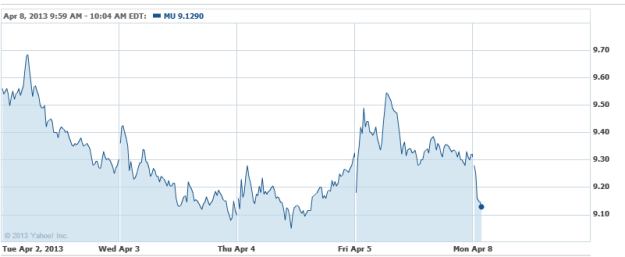 Coinstar (NASDAQ:CSTR): According to Northland Securities, DVD kiosk rental activity during the last week of March hit its highest level since late December. In addition, April rental activity also appears to be solid. The firm expects Coinstar to report sales that are in line with expectations, and possibly generate higher-than-expected profits. It keeps an Outperform rating on the shares.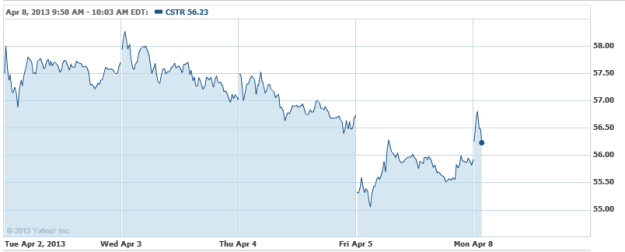 L-3 Communications (NYSE:LLL): After updating its estimates in the aerospace and defense space to account for the sequestration, JPMorgan has downgraded L-3 Communications to Underweight from Neutral. Meanwhile, it upgraded Northrop Grumman (NYSE:NOC) to Neutral from Underweight. JPMorgan sees L-3 as being the most at risk from the sequestration among the large cap defense stocks and lowered its price target for shares to $72 from $80.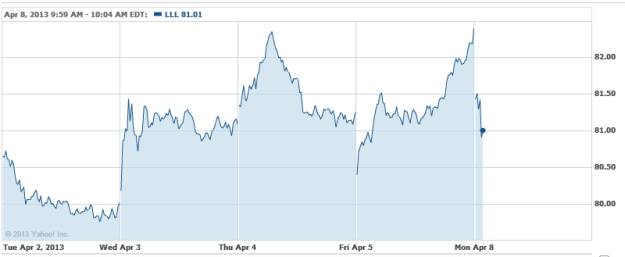 Don't Miss: Blackberry, Google and Red Hat: Down with Patent Trolls!