Analysts: Microsoft May Be Trying to Transform and 3 Other Research Notes to Look Over
Microsoft (NASDAQ:MSFT): Stifel believes that Microsoft is trying to transform itself into a devices and services company, and that this transition will be harder than most anticipate. The firm thinks that the company will have to spend billions on the initiative and on launching new products, resulting in a negative impact on its margins. The firm keeps a Hold rating on the stock.

Jazz Pharmaceuticals (NASDAQ:JAZZ): Piper Jaffray raised its price target for Jazz Pharmaceuticals to $107 from $94, citing visibility on sustained volume growth for Xyrem, and the firm keeps an Overweight rating on the stock. The firm continues to believe that Jazz is attractively valued.

Bed Bath & Beyond (NASDAQ:BBBY): Canaccord believes Buy rated Bed Bath & Beyond's revamped websites are gaining sustainable share, and that the valuation does not fully reflect growth potential. The shares' price target has been raised to $84 from $79.

Workday (NYSE:WDAY): After conducting checks at a Workday conference, Oppenheimer reports that the checks indicate that the company is poised to be the industry's next Tier 1 software provider. The firm thinks that the company is well-positioned to continue outperforming expectations, and it increased its price target on the shares to $92 from $85 while reiterating an Outperform rating.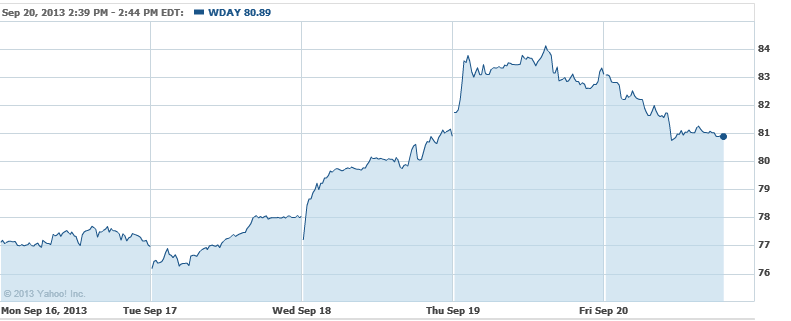 Don't Miss: Ballmer: Google's a Monopoly.