Analysts: Microsoft's Huge Earnings Potential and 3 More Research Notes to Browse
Microsoft Corp. (NASDAQ:MSFT): Nomura thinks that Microsoft's earnings could go as high as $3.80 per share in 2015, versus its current estimate of $2.70, under different circumstances. Nomura submits that the shuttering of the money-losing Bing and Xbox businesses could add 30-40 cents' worth of earnings benefits to 2015 results, a 47 cent benefit if operating costs were cut by 10 percent instead of raised by 5 percent, and 30 cents from a $30 billion share buyback. Though Nomura does not expect all changes to occur, it sees opportunities for the company to raise earnings significantly; Microsoft shares are Buy rated with a raised price target of $45, up from $40.
CVS Caremark Corp. (NYSE:CVS): UBS has raised CVS Caremark's estimates following the third-quarter report to reflect better momentum, PBM margin optimism, and better generic procurement. CVS shares are Outperform rated, with the price target raised to $70 from $64.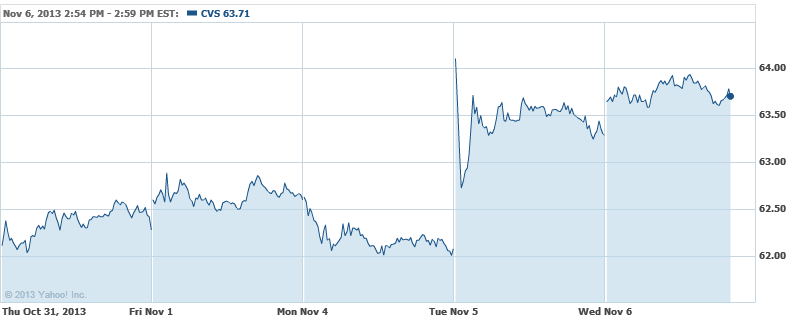 Zillow Inc. (NASDAQ:Z): JMP Securities believes that Zillow reported great results and thinks that the company has significant upcoming growth opportunities. It reiterates an Outperform rating on Zillow and lifts its price target to $100 from $91.
Krispy Kreme Doughnuts (NYSE:KKD): After performing industry checks, Janney Capital has raised Krispy Kreme's third-quarter U.S company-owned stores estimate to an 8.5 percent gain against a consensus 5.9 percent upswing, and U.S. franchised outlets to 9.5 percent versus the consensus of 5.7 percent. The shares are Buy rated, and Janney keeps Krispy Kreme as a top small-cap restaurant-stock pick with a $30 price target.

Don't Miss: Bill Gates Lightens His Microsoft Load by 10,641,900 Shares.