Analysts: Netflix Sees Strong Domestic Subscription Rate and 3 More Research Notes to Read Over
Netflix (NASDAQ:NFLX): Piper Jaffray raised its price target for Netflix shares to $398 from $245, citing strong domestic subscriber momentum following the company's third-quarter results; the firm, however, keeps a Neutral rating on Netflix stock due to valuation.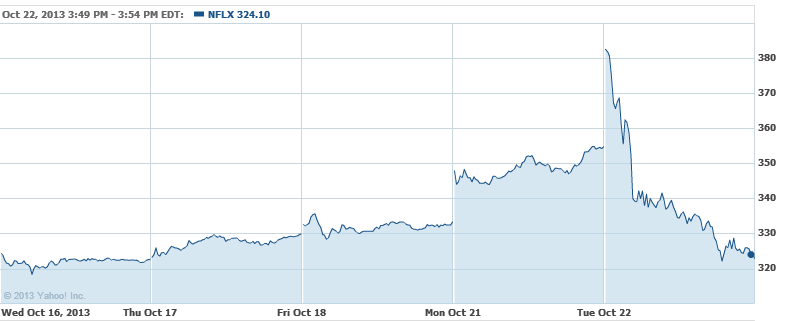 Biogen (NASDAQ:BIIB): Deutsche Bank sees a $7 per share upside for Biogen should the European Union grant exclusivity on Tecfidera and a $5 per share downside should that exclusivity not be granted. In the event that Biogen decides not to launch Tecfidera in Europe, the firm projects $18 per share in potential downside for the stock. The firm notes the monthly meeting for the EU's Committee for Medicinal Products for Human Use is currently taking place, with results due out on Friday; Deutsche does not know if Tecfidera is on the meeting's agenda. The firm keeps a Buy rating on Biogen with a $270 price target.

Discover (NYSE:DFS): Oppenheimer believes that Discover reported higher-than-expected core third-quarter earnings per share on higher-than-expected net interest margin and increased cost controls; as a result, the firm thinks the company's results exceeded expectations, and it keeps an Outperform rating on Discover stock.

Manpower (NYSE:MAN): RW Baird raised its price target on Manpower to $92 from $85 following third-quarter results; the firm cited signs of a turn in Europe, expectations for significant earnings power, and reasonable valuation as informing its judgement. Manpower shares are currently Outperform rated.

Don't Miss: Travelers Beats the Bears and Smashes Earnings Expectations.