Analysts: Stronger Housing Market Will Benefit Citigroup and 3 More Research Notes to Check Out
Citigroup (NYSE:C): Citigroup CEO Michael Corbat said that the bank's trading should suffer less of a seasonal decline during the current quarter than during last year's Q2, according to Bernstein. The improving housing market will also bode well for U.S. earnings, Corbat said. Bernstein keeps an Outperform rating on the shares.

Raptor Pharmaceuticals (NASDAQ:RPTP): Lazard recommends shares of Raptor, as it believes that the market is being overly skeptical on Raptor's Procysbi medication. The firm keeps a Buy rating on the name with a $17 price target.

Nokia (NYSE:NOK): RBC Capital thinks Nokia is more likely than not to make a negative Q2 pre-announcement, as it is still losing share and its feature phone business is now eroding along with its higher end phones. The firm also believes that the company's new devices are inferior to the competition, and it keeps a Sector Perform rating on the stock.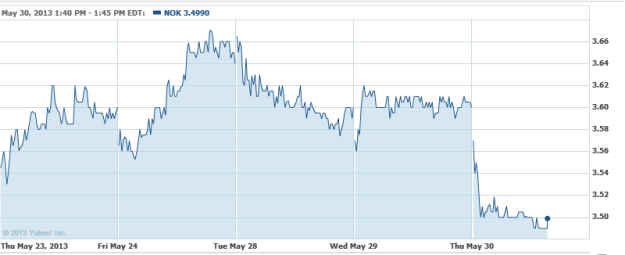 BlackRock (NYSE:BLK): Susquehanna has brought shares of BlackRock from Positive to Neutral, based on relative valuation, a reduction in QE, less attractive yield, and struggles with active equity. However, it did raise its price target from $296 to $300.

Don't Miss: What Does a More Energy Independent U.S. Mean For the World?