Analysts: Teva EPS Can Rebound and 3 More Research Notes to Look Over
Teva Pharmaceuticals (NYSE:TEVA): Bernstein thinks that Teva is trading at trough levels and says that the company's earnings per share should bottom at $3.50-$4. EPS should rebound to about $5 by 2018, provided the company can execute well, and it could potentially benefit from a merger. The firm keeps a $43 price target and Outperform rating on the stock.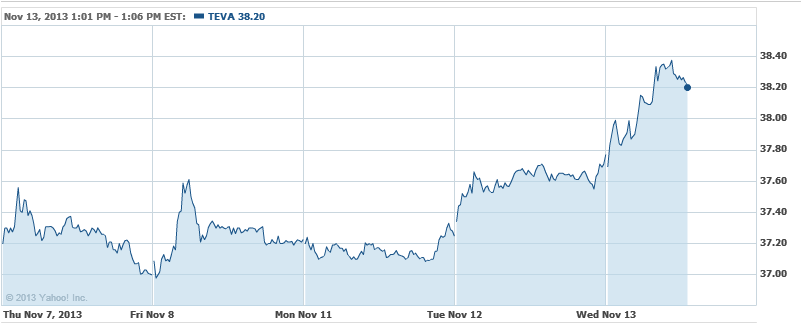 Yum Brands (NYSE:YUM): Following Yum Brands's report that showed its China comparable sales falling by 5 percent last month, Oppenheimer thinks the data support its thesis of a 2014 recovery for the company. The firm sees December's China sales as "make or break" for its thesis, and it expects those comparable sales to be "meaningfully positive." The firm keeps an Outperform rating on Yum Brand shares.
Kohl's Corp. (NYSE:KSS): Piper Jaffray is expecting Kohl's third-quarter results to at least meet expectations and predicts that the company will maintain its guidance. Piper thinks the company's efforts leave it well positioned to surpass projections in 2014, and it keeps an Overweight rating on Kohl's stock.

Nordstrom Inc. (NYSE:JWN): Piper Jaffray believes that Nordstrom's third-quarter results might be dented somewhat by technology investments that the company is making, as well as the shift of a key week of the company's Anniversary Sale into the second quarter. Despite these concerns, the firm expects the company to benefit from loyalty and mobile initiatives in 2014, and it keeps an Overweight rating on Nodstrom stock.

Investing Insights: Can News Corp. Perform Well the Rest Of the Year?