Analysts: Wal-Mart Sees Near-Term Estimate Risks and 3 More Research Notes to Browse
Wal-Mart (NYSE:WMT): RW Baird, having previewed Wal-Mart's third quarter results, believes that there is near-term risk to its comparable estimates, citing the government shutdown and sluggish low-income consumers. The firm believes that the company is well-positioned for the holidays, however, and further into 2014, noted improving trends and easier comparables. The shares are Outperform rated, with a $83 price target.

Progressive (NYSE:PGR): Deutsche Bank says that Progressive's October earnings beat was mostly due to reserve development that was meaningfully ahead of the year-to-date pace, adds that Progressive bought back just 100,000 shares during the month but did not announce another significant dividend of $1, like last year. The shares are Sell rated, with a $22 price target.

Crocs (NASDAQ:CROX): Stifel says that Crocs could be worth $16-$18 per share were an LBO to take place, based on varying tax scenarios and whether strategic buyers could justify an even higher price given synergy opportunities.

BioMarin (NASDAQ:BMRN): Goldman Sachs says that the November 19th FDA panel on Vimizim has been an overhang for BioMarin, and it continues to believe that the panel will vote favorably, leading to formal FDA approval in the first quarter of next year. The firm sees the shares as an attractive buy, given the likely positive FDA panel for Vimizim, and the limited value for the catalyst rich pipeline.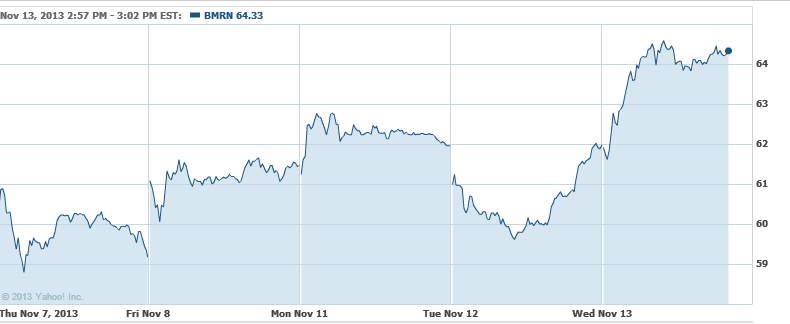 Don't Miss: Who Needs Thanksgiving Dinner When You Can Go to Wal-Mart?