Analysts: Waning Smartphone Demand Will Hurt Apple and 3 More Research Notes to Check Out
Apple (NASDAQ:AAPL): The results of its global handset survey have led Canaccord to slightly lower its estimates on Apple. The survey signaled that the iPhone lost market share following the launch of Samsung's Galaxy S4, and that already reduced Galaxy S4 pricing and disappointing Samsung high-tier smartphone sales suggest softening demand in the high-end market. The firm now estimates iPhone sales at 28 million units, down from 30 million, and adjusted 2014 unit estimates to 173 million from 181 million. The shares are Buy rated with a lowered price target to $530 from $560.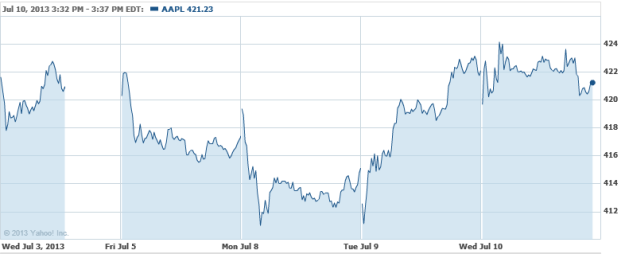 Lululemon Athletica (NASDAQ:LULU): Macquarie says that its survey following June restocking of black Luon products after earlier quality issues indicates that continued quality problems still persist. The firms said these issues could erode brand perception and that the window to fix the problem is narrow before customers move to competing brands. Macquarie maintains its Neutral rating but lowered its price target to $62 from $74.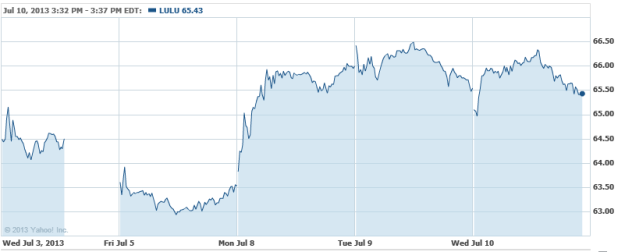 Cree (NASDAQ:CREE): WedBush has raised Cree estimates based on positive industry momentum and expects Cree to continue to report accelerating margins in its Chips and Components segment driven by mix shift to higher-margin SC3 products, increased utilization, and the manufacturing transition to 6-inch wafers. The firm rates the shares at Outperform, with a price target raised to $78 from $59.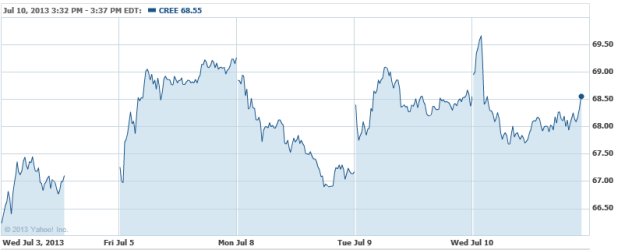 Ericsson (NASDAQ:ERIC): Bernstein believes that Ericsson's earnings could nearly quadruple over the next five years, while the stock is unlikely to fall below current levels even in a worst-case scenario. The firm keeps an Outperform rating on the shares.