Analysts: WebMD's Revenue Trends are Intact and 3 More Research Notes to Explore
WebMD (NASDAQ:WBMD): After WebMD reported lower-than-expected EPS, but higher-than-expected revenue and in-line third quarter revenue guidance, Stifel thinks the company's positive revenue trends are intact. The firm believes that the company is benefiting from a significantly improved biopharmaceutical advertising environment, and it keeps a Buy rating on the shares.

Trinity (NYSE:TRN):  After Trinity reported higher-than-expected EPS and raised its guidance, Wells Fargo thinks the company's guidance may be conservative, as it sees the company as being well poised for strong earnings growth in 2013 and 2014. It keeps an Outperform rating on the shares.

Air Products (NYSE:APD): RW Baird upgraded Air Products to Outperform from Neutral, following Pershing Square's 9.8 percent stake in the company. The firm now expects operational improvements to be quicker and shareholder value creation to accelerate, putting a price target of $117 on the shares, up from $108.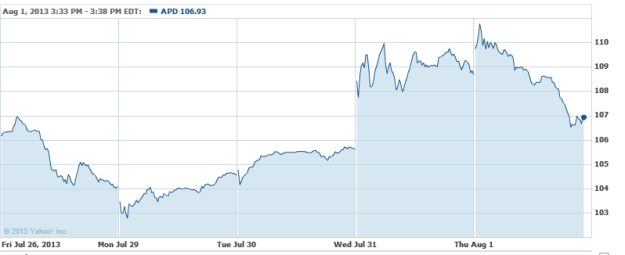 Humana (NYSE:HUM): Citigroup downgraded Humana to Neutral from Buy following the company's second quarter results, citing 2014 earnings growth concerns. However, the firm raised its price target for the shares to $95 from $87.

Don't Miss: 5 Reasons Why Obamacare Is Proving to be so Complex.