Analysts: Yum Brands Perks Up in China and 4 New Opinions Investors Must Know Now
Yum! Brands, Inc. (NYSE:YUM): The company reported higher February China comps than predicted, causing Bernstein to continue to believe that Yum! Brands could have to endure a "protracted recovery" in China. The firm reiterates its Market Perform rating on the stock. Oppenheimer views these comps as showing clear improvement since January and making a rebound by the company during 2014 "highly probable." The firm keeps its Outperform rating but increased the price target $77 from $70 on the stock.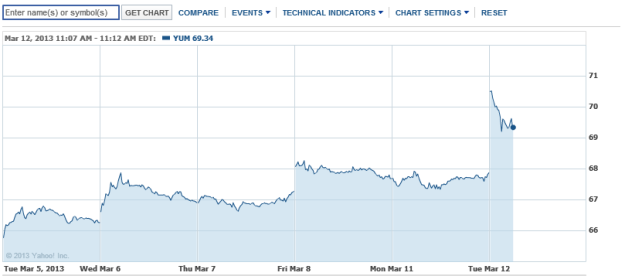 Urban Outfitters Inc. (NASDAQ:URBN): Urban Outfitters reported in-line Q4 results after it adjusted for a higher tax rate, and Oppenheimer views the company's 2013 guidance as reasonable. The firm believes that Urban Outfitters' outlook continues to be positive, and it keeps its Outperform rating on the stock. Morgan Stanley views the company's sales growth and margin recovery as underestimated and raise conviction in its 2013 thesis, saying that Urban is execution well and that Anthropologie is gaining momentum. The firm sees more upside to 2013 gross margin guidance, and it keeps its Overweight rating and $47 price target. According to Brean Capital, investors stay on the sidelines. After the results, the firm decided to reduce its already below consensus estimates due to the company's disappointing SG&A deleveraging for the third consecutive year and the near-term infrastructure build-out of its direct to consumer channel. The firm gives the shares a Hold rating and a $41.50 price target.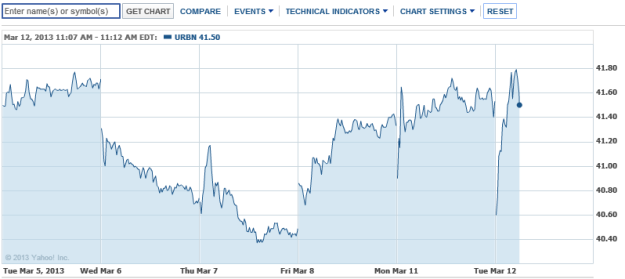 Investing Insights: Can Yum! Brands Continue Its Bull Run?