Anheuser-Busch Adds to Lineup and 3 Morning Hot Stocks Buzzing Today
Best Buy Co Inc (NYSE:BBY): Current Price $13.67
Best Buy Co Inc (NYSE:BBY) announced revenue details of the holiday season represented by the nine weeks ended January 5, 2013. Revenue fell 0.4% to $12.8 billion compared to $12.9 billion in the year ago period. The international segment did better growing 2.2% while the domestic segment fell 1.2%. Sales at comparable stores fell 1.4% mainly due to the international segment, with most of the drop occurring in Canada and China. Domestic comparable store sales remained flat. Significantly, the company's domestic segment online channel saw a traffic increase that boosted revenues by 10%. Free cash flow guidance for the fiscal year 2013 is revised to $500 million compared to the previous guidance in the range $850 million-$1.05 billion.

Start 2013 better than ever by saving time and making money with your Limited Time Offer for our highly-acclaimed Stock Picker Newsletter. Get our fresh Feature Stock Pick now!
Toyota (NYSE:TM): Current Price $96.15
Newly installed Japanese Prime Minister Shinzo Abe was critical of China's stance on a territorial dispute relating to a group of tiny uninhabited islands, saying he was unwilling to negotiate their ownership. Referring to Chinese protests that damaged Japanese factories and stores in that country, he said, "It was wrong for China, as a country responsible to the international community, to achieve a political goal by allowing damage to Japanese-affiliated companies and Japanese nationals that have made contributions to Chinese economy." Strong words that could reignite tensions and prove prejudicial to sales in the Middle Kingdom by Japanese companies such as Toyota (NYSE:TM).

Warner Brothers (NYSE:TWX): Current Price $49.72
Warner Brothers (NYSE:TWX) wrestled a major legal victory that gave it control of the Superman franchise after a three-judge panel of the ninth US Circuit of Appeals ruled in its favor. The court held a 2001 letter written by an attorney represented the heirs of Superman co-creator Jerome Siegel, accepting the offer by Warner Bros to purchase their 50% share in Superman, as legally binding. In October, Warner Brothers also secured clear rights to the other half of Superman when a federal judge in Los Angeles ruled that the family of Superman's other co-creator, Joseph Shuster, gave up their rights to the superhero franchise by accepting annual pension payments from DC Comics.

Anheuser-Busch InBev (NYSE:BUD): Current Price $87.37
Anheuser-Busch InBev (NYSE:BUD) is packing a pair of new beers with extra alcoholic content in a bid to attract more consumers. Tests have proved that beer drinkers are looking for higher alcohol, and the new beers, Budweiser Black Crown and Beck's Sapphire, feature six percent alcohol by volume compared to the six percent available in the main brands. InBev has been encouraged by the rapid growth in market share of its Bud Light Platinum, a 6% alcohol beer launched January last year.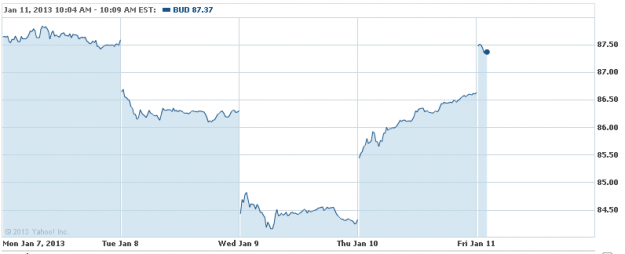 Don't Miss: What Did JPMorgan Do To Prompt This Probe?