Anheuser-Busch InBev Collaborates With Superstar and 4 Hot Stocks Changing Hands
McDonald's Corporation (NYSE:MCD): Current Price $95.32
McDonald's Corporation (NYSE:MCD) says global comparable sales were down 1.9% in the month of January. Segment wise, comparable sales in the US were up 0.9%, down 2.1% in Europe and declined 9.5% in the Asia Pacific Middle East and Africa region (APMEA). "While January's results reflect today's challenging environment and difficult prior year comparisons, I am confident that our unwavering commitment to delivering an exceptional restaurant experience will enhance our brand's relevance and drive long-term results," said McDonald's President and Chief Executive Officer Don Thompson. The fall in the APMEA region is primarily attributed to a weak Japanese market, the changed time of the Chinese New Year this year and consumer reaction in China to the chicken industry supply chain issue.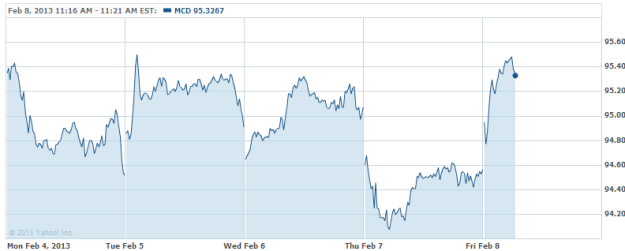 Royal Bank of Scotland (NYSE:RBS): Current Price $10.79
Documents published by the regulators relating to the Royal Bank of Scotland's (NYSE:RBS) alleged manipulation of the LIBOR reveal that a common link existed in the network of banks that attempted to boost profits in the scandal. Named in the documents is Tom Hayes, a.k.a. "Rain Man" for his trading prowess and awkward dress habits, a trader who was employed at banks such as Royal Bank of Canada (NYSE:RY), RBS, UBS (NYSE:UBS) and Citigroup (NYSE:C) at various times when the scandal gained scale across global banking. Though he stands charged by the US Justice Dept for fraud, conspiracy and anti-trust violation, Hayes claims, "This goes much much higher than me," in a text message to the WSJ.
Are these stocks a buy or sell? Let us help you decide. Check out our Stock Picker Newsletter now.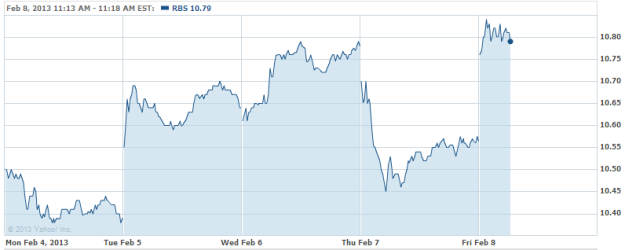 RadioShack Corp (NYSE:RSH): Current Price $3.25
New in the hot seat at RadioShack Corp (NYSE:RSH) is ex-drug store executive Joseph Magnacca, who joins as CEO and a board member effective Monday. Magnacca is executive vice president and president of Walgreen Co's (NYSE:WAG) daily living products and solutions businesses. Calling RadioShack a great brand, he said there were advantages in being a small box retailer in the consumer electronics space today. Meanwhile, board chairman Daniel Feehan said that Magnacca had been hired to be a catalyst for change at the company.

Anheuser-Busch InBev (NYSE:BUD): Current Price $86.10
Anheuser-Busch InBev (NYSE:BUD) has signed on music superstar Justin Timberlake as ambassador for its Bud Light Platinum brand, appointing him Creative Director and responsible as the creative, musical and cultural curator for the brand. The relationship will launch during Sunday's Grammy awards with Timberlake's new single "Suit & Tie" featuring in "Platinum Night," the latest 60-second Bud Light Platinum ad.

GM (NYSE:GM): Current Price $28.65
The US National Highway Traffic Safety Administration may expand GM's (NYSE:GM) Pontiac G6 recall in 2009 of 8,000 cars to as much as 550,000 vehicles. The regulator said it received 212 complaints from consumers regarding faulty brake lights and cruise controls on the vehicle. The regulator is considering whether it should order the recall of all G-6s from 2005 through 2009, even though there have been no reports of any crashes or injuries due to the problem. GM is said to be cooperating with the investigation.

Don't Miss: Have the Golden Arches Lost Their Shine?