Anheuser-Busch InBev Wins Right to 'Bud' and 2 Hot Stocks Attracting Attention
Lowe's (NYSE:LOW): Current Price $37.17
According to dealReporter, Canadian home improvement chain Rona's move to revamp its board of directors may lead to a resurrection of Lowe's (NYSE:LOW) offer to acquire the company, a proposal which was withdrawn after the Rona board stubbornly refused to entertain it. According to dealReporter, by the time of RON's 14 May annual meeting, there will be eight new faces on its 14-member board and this may increase the likelihood of LOW making a fresh offer.

Start 2013 better than ever by saving time and making money with your Limited Time Offer for our highly-acclaimed Stock Picker Newsletter. Click here for our fresh Feature Stock Pick now!
Netflix (NASDAQ:NFLX): Current Price $96.75
According to NPD Connected Intelligence, in Q4 2012, about 40% of people whose TVs were connected to the Internet watched Netflix (NASDAQ:NFLX). Increasing numbers of consumers are migrating from watching video on their computers to watching it on TV. In perhaps the most important takeaway from their findings, over half of the consumers within the age group 18-24 who had internet-connected TV watched Netflix. These demographics point to a rosy future for the video streaming company.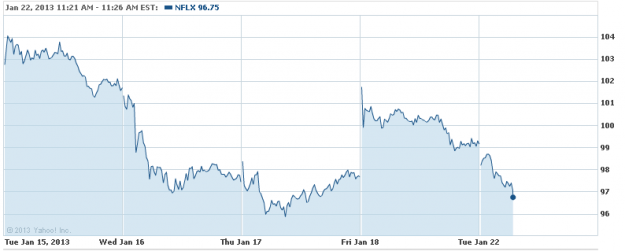 Anheuser-Busch InBev (NYSE:BUD): Current Price $90.35
An EU high court delivers a judgment in favor of Anheuser-Busch InBev (NYSE:BUD), ruling that it is entitled to use the trademark "Bud" in Europe, dealing a blow to Czech company Budejovicky Budvar, which had been contesting Anheuser-Busch InBev's claims for over a century. Though Budvar is likely to appeal at the EU's highest court, InBev announced it now has the "right to a Bud trademark registration is one throughout the entire European Union."

Don't Miss: What Does This Nomination Mean for the SEC?