Another Boeing 787 Flight Grounded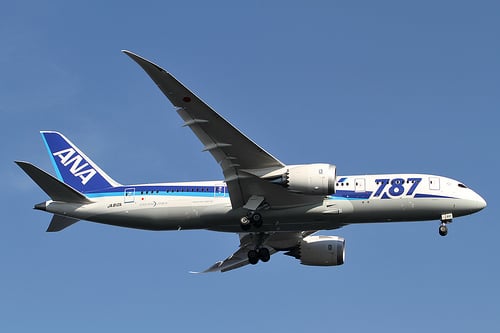 Boeing Co. (NYSE:BA) is facing more problems with its 787 Dreamliner, although this time the issue might not be their fault.
ANA Holdings Inc., which operates the biggest fleet of 787s, was forced to scrap the plane for a flight from Ube in western Japan to the Haneda airport in Tokyo Wednesday as the right engine failed to start. The incident is the third time this week that the 787 Dreamliner has caused flights to be canceled in Japan.
These issues come only two weeks after a Japan Airlines flight was forced to switch a 787 for another aircraft after sensors on the battery system were tripped by two small pieces of tape mistakenly left on the container. The airline made a point to say that normally such an issue would not warrant much attention, but considering the history of problems with the battery system on the craft it was determined a different plane would be used for the flight.
Boeing is adamant that the issue has nothing to do with the battery problems that plagued the craft upon its release, leading up to a four-month grounding while Boeing fixed the overheating battery system. Rolls-Royce, which makes the Dreamliner's Trent 1000 engines, has stepped up to accept responsibility for the problem.
"We are aware of this issue and are working closely with ANA to understand it and support them," a Rolls-Royce spokesman said. Rolls-Royce and Boeing are working together with ANA to resolve the issue as quickly as possible. The Japan Transport Safety Board has decided not to launch an investigation regarding this week's incidents since there was no accident, and it doesn't appear as though the issues are related to the battery system in any way.
Boeing's innovative 787 Dreamliner is the only large commercial aircraft to be made out of a lightweight plastic composite, making it more fuel-efficient. It's also the only large commercial jet that uses lithium-ion batteries. If Boeing can prove that the 787 is a reliable aircraft and overcome all the bad press the plane has gotten recently, then airlines could begin to see a return on their investment in the Dreamliner.
Don't Miss: Does Obamacare Mean Fewer Doctors and Less Accessible Healthcare?