Another Boeing Plane Is Stuck on the Ground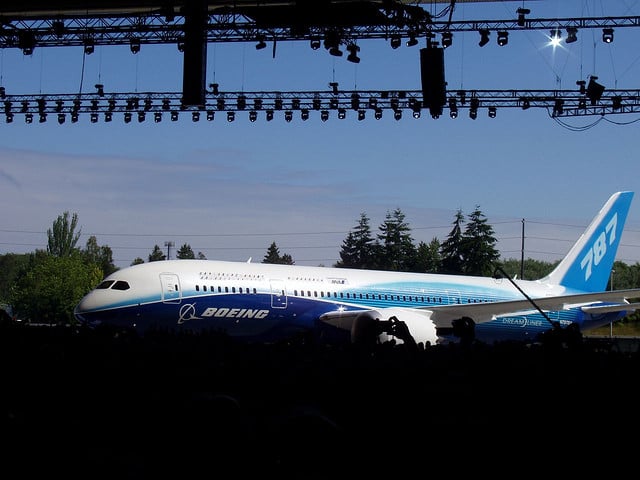 While Boeing's (NYSE:BA) 787 can't seem to stay out of the news lately, the company is also facing difficulty with its 747-8 freighter jet. The company's biggest and most expensive plane has suffered from a worldwide drop in long-haul cargo shipments, and Boeing has had to put some of the planes in storage while slowing their production rate as well.
Boeing faced questions about the jet as it has had to leave some in storage, parking them in Arizona or outside the Boeing factory in Everett, Washington. Boeing reps didn't say how many planes were sitting in storage and claimed there are 747 sales in the works, although no customers were named.
The 747-8 comes in a passenger version and a cargo version. While global cargo traffic has fallen in the first half of 2013 from the same time period last year, Boeing is betting on the passenger version of the jet to boost sales. German airline Deutsche Lufthansa began flying the plane last year and has since placed 19 orders. Boeing is counting on Lufthansa's positive experience with the craft to turn sales around.
Boeing's European rival Airbus has also faced difficulties selling its biggest model, the A380 double-decker jumbo. Boeing believes the 747′s capacity to be either a cargo or a passenger craft is a key advantage, and one that Airbus doesn't have with its A380.
Boeing isn't the only company expecting a turnaround on the 747-8. General Electric Co. (NYSE:GE), which makes the engines for the craft, said at the Paris Air Show that it remains confident the cargo market will bounce back.
One analyst quoted by Bloomberg wasn't so sure, "The air cargo market has just been awful. The demand of freighters has been very, very low. We've heard of people taking 767s for routes they used to fly 747s on because the demand on that route is down so much."
Boeing still has a lot on its plate despite the stalled 747 sales. The company also announced a $4.9 billion defense deal with the Pentagon for the infamous V-22 Osprey last week. In addition, the 787 was recently cleared for commercial use after being grounded for months at the beginning of the year. There have been a few incidents involving the 787 in the news recently, including several cancelled flights in Japan, but if the 787 can keep a low profile and airlines can start getting a return on their investments in the innovative and fuel-efficient craft, it will only be good news for Boeing.
Don't Miss: Consider a 529 College Plan for Your Child's Education.