Another Company Commits to Veterans and the U.S. Economy
In November, veteran's magazine G. I. Jobs ranked Amazon (NASDAQ:AMZN) as its top military employer for 2012, the company's second year in the number-one spot. Amazon has a veteran new-hire rate of 25 percent, back by a team of recruiters dedicated to military hiring and training. The company has also been proactive in trying to place disabled veterans and military spouses in work-at-home positions.
And Amazon isn't the only company to recognize the skills and work ethic of veterans. In October, a coalition of manufacturers such as General Electric (NYSE:GE) and Boeing (NYSE:BA) aligned themselves with the "Get Skills to Work" initiative, which aims at placing 15,000 veterans into high-tech manufacturing jobs by providing re-training and re-certification opportunities.
Start 2013 better than ever by saving time and making money with your Limited Time Offer for our highly-acclaimed Stock Picker Newsletter. Click here for our fresh Feature Stock Pick now!
Veteran unemployment is a huge problem in the United States, particularly as the economy at large is weathered by economic headwinds. Overall U-3 unemployment in the U.S. is 7.8 percent, but the unemployment rate for Gulf War-era II veterans is 10.8 percent. Many competent, skilled veterans have been unable to find work despite being well trained because there is no reasonable process to translate military certifications into civilian certifications.
As a result, men and women who have serviced Apache helicopters can't find work as mechanics and medics who have field experience can't find work as nurses. As America's economic storm continues to brew, and the labor market shows only weak signs of improvement, private employers are recognizing that the government is not the driving engine of job growth — they are.
In that spirit, Wal-Mart (NYSE:WMT) is joining the brigade of employers with big hearts. Bill Simon, CEO of the retailer's U.S. division, announced an initiative that could make America's largest employer the country's top military employer.
Beginning on Memorial Day, the company will offer a job to any honorably discharged veteran in his or her first 12 months off active duty. Additionally, the company has committed to spending $50 billion over 10 years on American-made goods to support the domestic economy.
"At the heart of our national political conversation today is one issue: creating jobs to grow the economy," said Simon. "We are meeting with our suppliers on domestic manufacturing and are making a strong commitment to move this forward."
"I can think of no better group to lead in revitalizing our economy than those who have served in uniform," he added. "Through their service, veterans give us a land of freedom. When they return, it must be to a land of possibility."
This is a welcome move from a company that currently ranks 78 out of 100 for its veteran-employment initiatives. Even more welcome in light of a recent tragedy at a factory Bangladesh where Wal-Mart sourced clothing, and a Black-Friday strike held by some workers who feel that the company does not properly compensate them, and sometimes abuses its position as an employer.
Here's how the big 4 stocks supporting veterans have traded over the past week: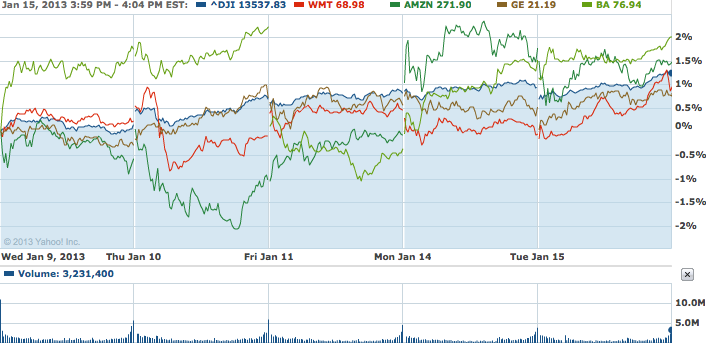 Don't Miss: U.S. Debt Ceiling: Platinum and Gold Are Not the Answer.