Another Day, Another $4.5 Billion Check From JPMorgan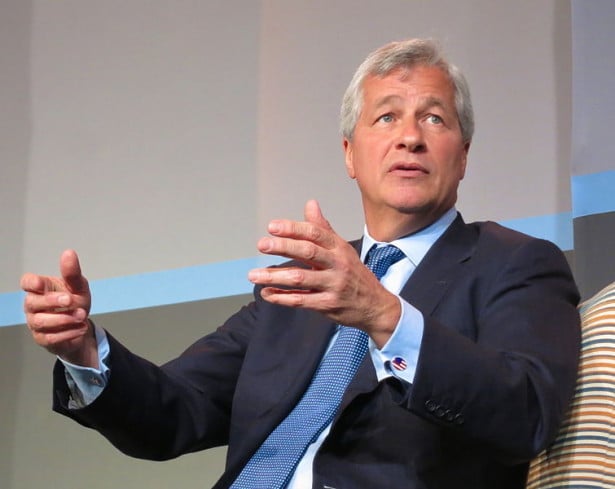 If anyone believed JPMorgan (NYSE:JPM) had untangled itself from the web of lawsuits, that person was mistaken. The nation's largest bank announced a $4.5 billion settlement had been reached with investors over residential mortgage-backed securities sold to them by Bear Sterns, JPMorgan, and Chase Bank between 2005 and 2008. Pending litigation over Washington Mutual mortgage deals, as well as the $13 billion expected to be settled with the federal government, do not factor into this deal.
JPMorgan Chase detailed the settlement in a company statement Friday, November 15. Despite the 330 mortgage security trusts settled by the $4.5 billion payout, The New York Times reports the bank has more than $100 billion in exposure related to mortgage-backed securities still to be decided in court. The final tally on the expected $13 billion settlement with U.S. regulators is forthcoming.
Last month, JPMorgan disclosed it had set aside $23 billion in reserves for different litigation fees. In the statement announcing the November 15 settlement, the bank seemed confident it had prudently reserved its money to pay these extravagant costs without disrupting the flow of business.
"This settlement is another important step in J.P. Morgan's efforts to resolve legacy related RMBS matters," the statement read. "The firm believes it is appropriately reserved for this and any remaining RMBS litigation matters." While these appearances in the news aren't helping the bank, JPMorgan has been clumsy in protecting its own image of late.
The company's Twitter debacle on Wednesday is the perfect example. JPMorgan opened up its Twitter feed for a dialogue with the public under hashtag "#AskJPM". Rather than receiving queries from curious admirers and stumped finance majors, JPMorgan felt the brunt of the nation's disgust over the abuses of the financial crisis. Before the Twitter experiment was shut down, the bank was served notice of how it symbolizes greed for a generation.
Despite the negative press, the bank is reassuring investors it has planned for the effects of any number of lawsuits. The $23 billion set aside for litigation costs may exceed the net income of JPMorgan in 2012, but just because the bank continues to pay out billions doesn't mean the money's gone.
Reuters reported in late October that $4 billion of the proposed $13 billion settlement with the government can become a tax write-off for JPMorgan. Of the remaining $9 billion, upwards of $7 billion may also be deductible.
Don't Miss: JPMorgan's Hiring Practices in China Raise Red Flags At the SEC.